Beth Pipe reports on Patagonia Worn Wear & Fix the Fells Walk
Wednesday, 17 February, 2021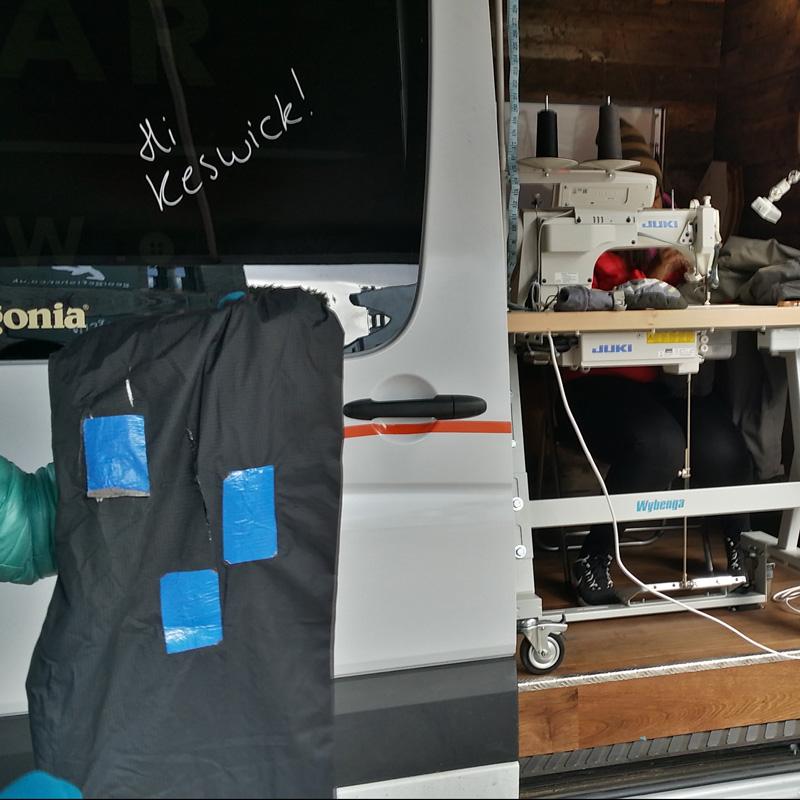 My mum was from the "Make do and Mend" generation. I can clearly recall her darning tights and fixing holes in socks. She bought up 3 kids on a wing and a prayer and could whip up a dinner from a couple of pigs trotters and a few spuds (I'm not saying it tasted great, I'm just saying she could do it.) I inherited many things from her, much to Steve's concern, but I did not inherit her ability to wield a needle and fix things, which is a shame as I'm really good at breaking them...
Take my Gore Tex trousers for example - I bought them just after we moved here way back in January 2011 and I managed to keep them in one piece until March 2012 when I slid down Haystacks in the dark, on my backside, at high speed and tore a huge hole in them (and my trousers, and my undies, and my backside!). We don't have a lot of spare cash and, as a roll of plumbers tape is a lot cheaper than a new pair of trousers, I "fixed" them and spent the next 4 years walking around like this...
I like to think I focused on a practical rather than a pretty solution and though it's not something Kirsty "oh I'm so crafty" Allsop would approve of, it at least kept my backside dry. Having recently added another hole or two I was beginning to consider the possibility of buying a new pair when an invite arrived for a Patagonia Worn Wear event at George Fishers in Keswick.
Patagonia's rather splendid idea is to fix your outdoor gear, thus extending its life and saving you money - but that isn't what drives them - what drives them is a desire to keep our tattered and torn gear away from landfill sites.
There's no way I could have handed the remains of my trousers over to a charity shop and, as there are no recycling bins in Asda's car park for "bumless waterproof trousers", the only option left would have been several millennia at the bottom of the local landfill.
I fully expected them to laugh in my face when they saw the size of the challenge but instead they grabbed them with glee and promised to work miracles while we headed off to explore the nearby fells. They did warn me that the repair would invalidate the Gore Tex waterproof guarantee but I think that ship pretty much sailed when I attempted my freestyle toboggan run down off Haystacks.
Richard from Fix the Fells led us on a walk up onto Bleaberry Fell ("I found my freedom...") and explained all about the fantastic work they do.
The winter storms did a lot of damage to the footpaths on the fells but the good news is pretty much all of them are open - if you're planning a hike visit the Lake District National Park website for the latest information on the few paths where there are still problems.
Stunning views along to Bassenthwaite and the obligatory team photo on the summit
Meanwhile, back at my backside...
The lovely folks at Patagonia had indeed worked miracles! When we got back these were waiting for me - I think I'll miss the blue plumbers tape but at least I'll be dry again now.
After a long walk in the fells and saving over £100 on a new pair of trousers there was only one way to round off the day - a tour of a brewery and Keswick Brewing Co were only too happy to oblige! We also got to check out their Twizy AND I got to pull a few pints - I may not have inherited my mums ability to Make Do and Mend but my maternal Grandad was a barman and I like to think I learned a thing or two from him...
 Grandad (on the right, pulling a face with a pint in his hand - you can't argue with genetics!)