PAW-FECT WINTER SAFETY
Wednesday, 17 February, 2021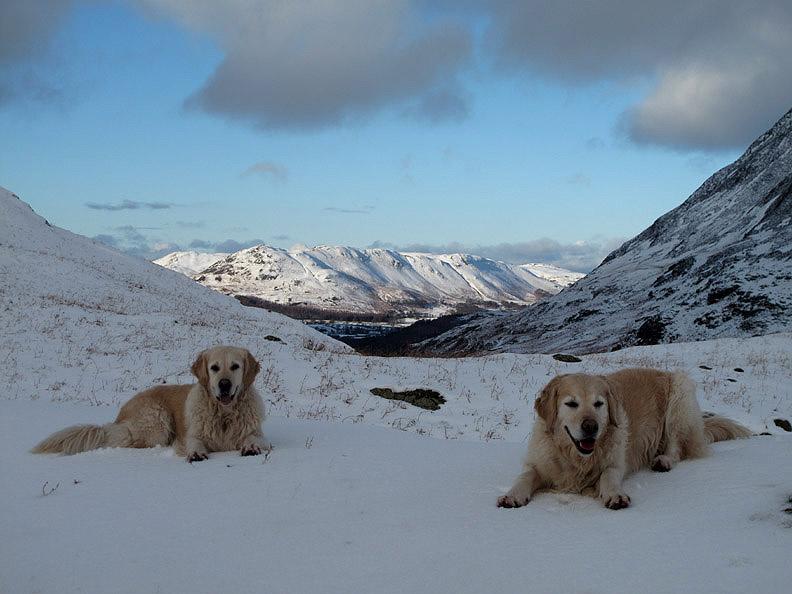 Dogs and their owners generally love ploughing through soft powdery snow, playing with snowballs and then settling down beside a log fire in the pub afterwards. But tragically each winter some dogs and their owners lose their lives when they momentarily forget the dangers of winter walking.
Snow on the ground in the valley is not as dangerous as heading to the higher fells, but there are still dangers lurking beneath the picture-postcard winter landscape. A dusting of snow hides what may lie beneath. Frozen ponds, tarns and rivers may be dusted in snow but their frozen surface may not be strong enough to support a dog or their owner. Each winter dogs stray onto frozen ponds, fall through the ice and their owners follow with the often tragic outcome that both the dog and their owner lose their lives.
The only way to guard against such tragedies is to keep an eye on the map so you can see where frozen water may lurk beneath the snow. Training your dog to come back when called and walk beside you is essential, but keeping the dog on a lead is also a wise precaution in suspect terrain.
As you begin to walk higher up the fell, the views over the cliffs are spectacular. However watch out for snow cornices at the cliff edge, which can easily collapse under the weight of a walker or a dog. When cloud is swirling around it is difficult for walkers to see where the snow ends and the cloud begins and it's even more challenging for a dog, as their eyes are not as sensitive to different shades of colour as humans. Dogs off lead may just be running and enjoying themselves or chasing a bird, but snow cornices blend in with the cloud and they can easily run over the edge.
On the higher fells the temperature drops rapidly and this causes warm snow to freeze and stick to your dog's coat, and also to the hair between their paws. Cutting back the hair between the toes and putting Vaseline between the toes can reduce the amount of snow that gathers and freezes on the paws. However it is still worth checking your dog's paws regularly on walks to ensure they are free of hard packed snow or ice, as otherwise the dog may become uncomfortable.
A winter walk can include periods of cold rain, sleet or snow. A fleece coat for your dog may keep it warm in the dry, but it tends to soak up water and snow will stick to it so your dog won't necessarily stay warm. However a waterproof coat such as the Ruffwear K9 Overoat has fleece on the inside and a water resistant outer to protect from wind, rain and snow. The reflective trim also makes it easier to see your dog during descents in the dark and helps to keep it safe on the road walk back to the pub, where that cosy fire is waiting along with a water bowl for the dog and pint of Lakeland ale for you.