Portable solar power from Goal Zero
Wednesday, 17 February, 2021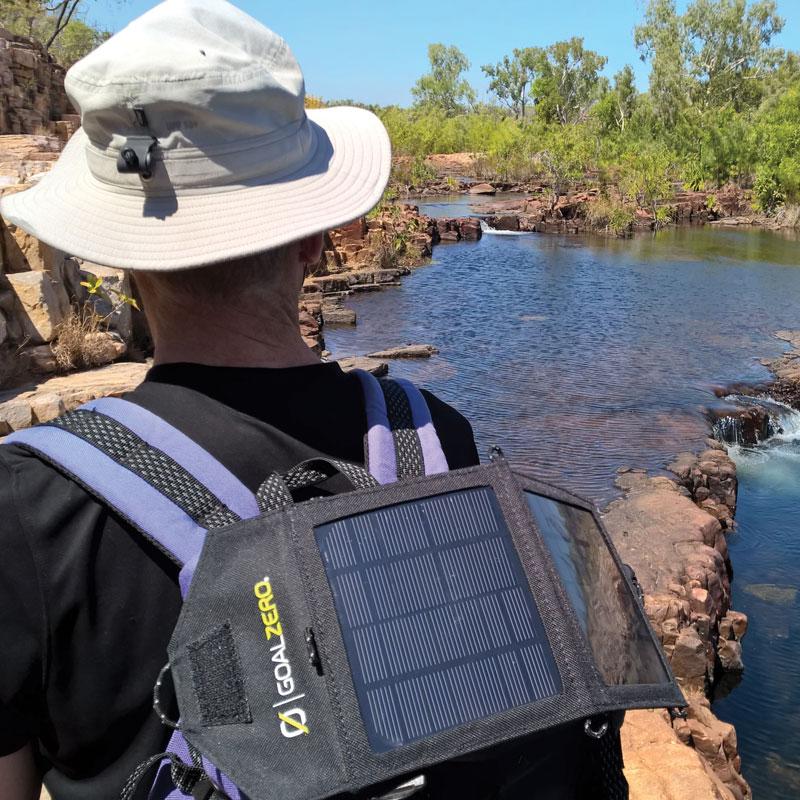 September 2015: When starting to write about using a Goal Zero solar power charger this summer, I was reminded of a morsel of history. In the equipment appendix of his marvellous 1976 book 'Everest the Hard Way', Sir Chris Bonington lists Olympus OM1 cameras, and solar battery chargers "developed specially by Ferranti Ltd and the BBC Research and Development department". The OM1 was often cited in that era because it was a fully mechanical camera (no batteries required).
It's really not long since expeditioners would set off without much electrical equipment, or scrape by with the bare minimum; because they had to. For years, on wilderness treks, torches would have to be used sparingly because their incandescent bulbs would eat up battery power in a few evenings; and revolutionary Walkman tape players would remain a bit of a luxury, due to the need to carry boxes full of AAs. My film SLR camera's tiny button cell batteries lasted for months, but I often left the tape player at home.
Nowadays some of our electrical gadgets are far less energy demanding – torches with LED bulbs, the simpler types of mobile phones, and music players for example. But other pieces of kit have evolved to use more power, or are completely new concepts (digital cameras, mobile computers and GPS devices).
My outdoor enthusiast physics teacher loved to tell pupils that everything comes down to energy, and on expeditions he certainly had a point. Thankfully there continue to be advances in portable solar PV systems and batteries, including off the shelf products, that enable us to remain powered-up during the day and after the sun has gone down.
This year, for the first time, my preparations for our family 'off-grid' holiday really had to involve provision for portable power. That we were expecting to be away from the mains for days at a time wasn't anything new, but the trend towards using short-battery-life smartphones for snapping the holiday photos had become unstoppable. Androids and iPhones 'have' to be brought along, even when venturing far into areas with no mobile phone networks.
Our solution lay conveniently in the travel section at George Fisher: A Goal Zero Nomad 3.5 solar PV panel with a Goal Zero Switch 8 Li-Ion rechargeable battery (2200mAh). Together, including USB cables, our solar charging kit weighed-in at only 440g, took up no more space than a folded map, and cost £100. I took an additional similar capacity rechargeable Li-Ion battery.
Using portable power systems effectively is like any other good camp-craft practice: just a little planning and attentiveness required. Our Goal Zero was a breeze… position the solar panel to be as perpendicular to the sun as possible, and connect the battery. LEDs on the battery blink to indicate charging, and also indicate level of charge. When fully charged – typically after four hours – reconnect the battery to the phone (or other device) to top it up. Meanwhile, take advantage of all the remaining daylight to charge up the second battery.
With our Goal Zero we had no trouble keeping four smartphones and two Petzl head-torches powered-up on expedition. It was satisfying to know that five days could have turned into fifty, and we'd still have been generating electricity from our pocket sized power station.
We were soon appreciating the benefits of the Goal Zero in other more everyday situations like alleviating competition for the car's single USB power socket! It's now one of the must have items on my 'take-it-anywhere-the-sun-shines' kit list.
Whilst I used the simplest of the Goal Zero systems, and found it adequate for our needs, other Goal Zero products can be used in flexible and much more powerful configurations.
Update, August 2017: During the summers of 2016 and 2017, I've appreciated using the more powerful Goal Zero Nomad 7 solar panel. The Nomad 7 has an output that's high enough to charge a typical smartphone directly from the solar panel (rather than first charging a battery, and then charging the phone from the battery).
Shop Goal Zero at George Fisher.