GEAR FOR GREENLAND
Wednesday, 17 February, 2021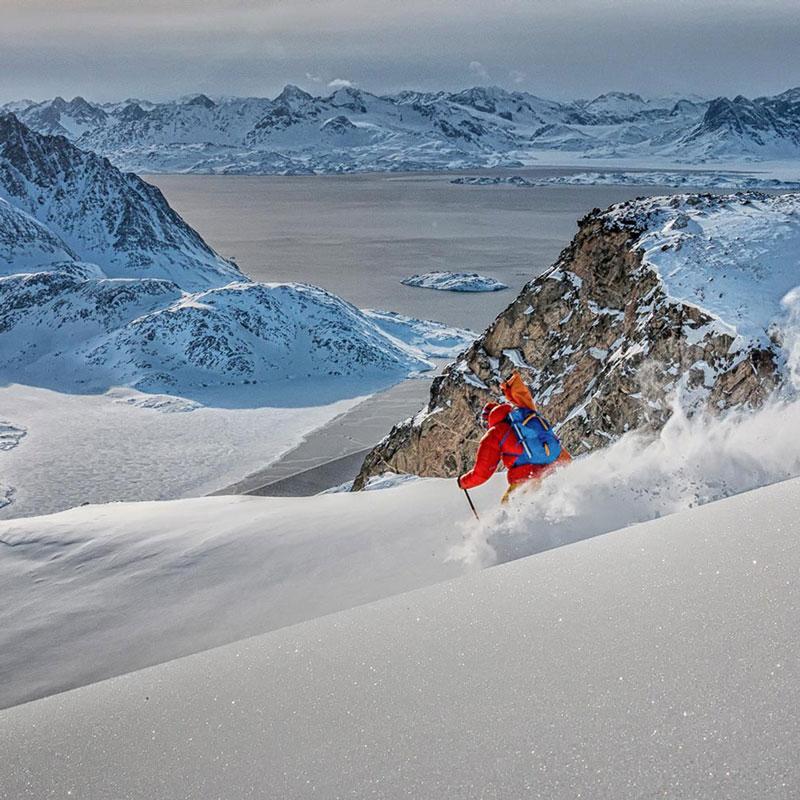 Unlike backcountry skiing in the Alps, where stable weather systems often mean waterproofs can be left at home, Matt Spenceley and Helen Russell are based in Greenland where they routinely undertake big expeditions where they have to pare things to a minimum, but need gear that will withstand wild weather. Matt and Helen give us an insight into what they'll take into the mountains.
East Greenland, March 2015:
We've dogsledded into a high cirque of alpine peaks on one of the wildest, most remote coastlines on earth. Within six hours, a fierce north easterly – known to the Inuit as Nakkaja – will sweep in. With the tents sheltering behind stout snow walls, the following day passes in a blur of severe gale force winds, blizzards and snow clearing. A tough 24 hours, but to what end? When the storm clears, Helen and I are surrounded by some of the most inspiring backcountry ski terrain imaginable; weeks of beautiful first descents ranging from couloirs that rise from the frozen ocean, to open powder faces falling away below sharp summits.
It's this kind of adventurous skiing we love the best. Whether exploring in Greenland, abseiling into a couloir in the Dolomites or finding deep powder on the forested volcanoes of Hokkaido, Japan, ski mountaineering can be seriously committing and challenges us to carry just enough of the right equipment – kit that can handle big storms and multiple days out, but is light enough for big ascents.
Here's some of the kit we'll be using this winter:
Black Crows Navis Freebirds/ATK RT bindings: Skis have got a lot wider in the last few years. At 102mm under the binding, these planks are light, dependable in steep icy conditions but great in deep snow. Fitted with super light ATK bindings (170g).
Haglöfs Shield Hood: a featherweight wind top we wear pretty much every day of the year. Cuts out the wind, but minimises overheating. When it's not raining/sleeting, this is what we wear on the ascent.
Haglöfs LIM III jacket: a super lightweight Gore-Tex Paclite jacket that stuffs down very small but has all the essential features of a serious mountain jacket. Doubles up as a second layer over Shield jacket on cold ascents.
Haglöfs Rando shell pants: light but robust; thigh pockets for on-the-go kit changes like hats and gloves.
Brooks Range stretcher: With drilled ski tips and tails, this specialist kit is used together with a K2 Rescue+ shovel to build a sturdy stretcher to evacuate anyone with a leg injury.
SOL emergency bivvy bag: ultra light but robust emergency bag.
Rubber ski straps: essential! From field repairs to splints.
Haglöfs Essens Mimic Hood jacket: a synthetic insulated jacket that still functions when wet. Backed up with a Haglöfs Magi II down jacket on colder/more committing days. Available at George Fisher.
Dynafit TLT6 boots: light with great ankle articulation for the ascent, but locks down to aggressively drive skis on the descent. Great performance for such a light boot.
Grivel Haut Route crampons: Special light, but effective crampons for ski touring. Steel front points for effectiveness on mixed ground and ice; lightweight aluminium back plate.
Grivel Air Tech Racing axe: light ski touring axe.
Transceiver, shovel & probe: Mammut Pulse (or Element), Ortovox carbon 240cm probe and a metal (not plastic) shovel like the K2 Rescue+.
Medical kit: packed into a small drybag.
Rucksack: size depends on the trip: ranging between 20 and 35L.
Repair kit: a light set of pliers, wire, duct tape, zip ties, spare screws, wax and glop stopper (for discouraging build-up of wet snow on skins).
Matt Spenceley (an IFMGA alpine guide) and Helen Russell, both sponsored by Haglöfs, are passionate ski mountaineers following the winter 7–8 months of the year. Based out of their ski lodge in a tiny village in East Greenland, or travelling to other wild spots around the world to ski, they most like searching out new lines in wild mountain regions. www.expeditiongreenland.com