Meindl boot & shoe grades
Wednesday, 17 February, 2021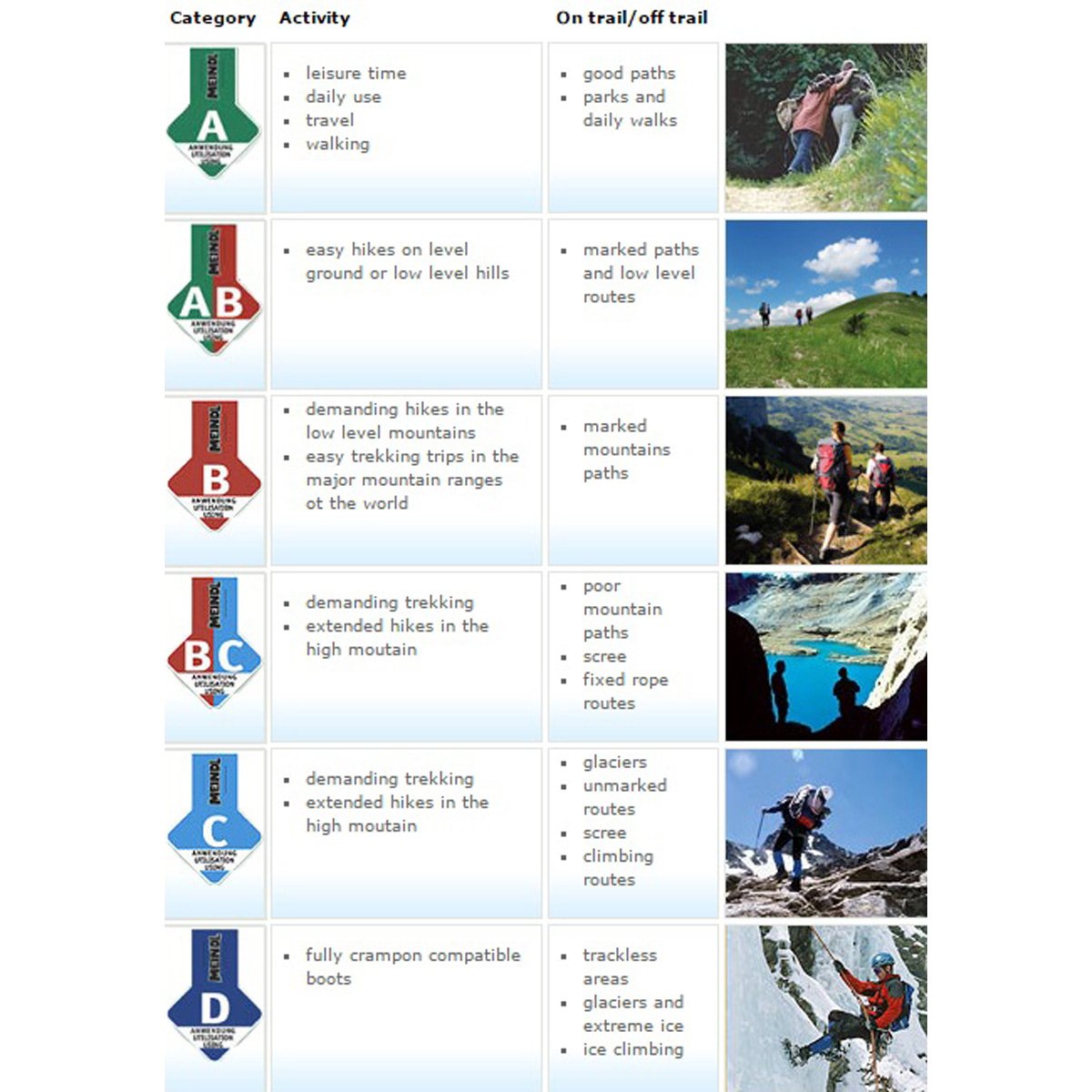 Meindl boot & shoe grades - a Lake District perspective from George Fisher
Whether you look on Meindl's UK website or their German one, the wording about the suitability of their boots & shoes is fairly subjective. 
Here's a helpful guide to the kind of 3-season* walking that your Meindl footwear is intended for, related to hills in the Lake District to give you more of an idea, hopefully ...
A - very good, easier paths: Tarn Hows, Whinlatter Forest, Latrigg
A-B - reasonable paths: Dock Tarn, Catbells, Walla Crag, Maiden Moor
B - rougher paths: Great Gable, Helvellyn, Coniston Old Man, Scafell Pike
Suitability is a very personal thing, though, so these hills are just a guide.
Longevity is just as important - we all want to get years from our boots!
One of the most punishing things for leather or fabric boots & shoes is actually something like dog-walking once or twice a day.
When it's wet, footwear can often get dried too hurriedly ... or never get a chance to dry properly before it's time to go out again.
The best thing for your boots is to dry them carefully (not too much heat) and to treat the leather well with conditioner, proofer and wax, paying particular attention to the flex points. Looking after leather boots well should mean that you get plenty of use out of them before they require a resole or need replacing.
If you're not sure what the best treatment for your boots & shoes is then have a look at the free leaflet that should have come with your new footwear, browse our website, or contact us for help & advice.

* A note on winter conditions:
Meindl B - grade boots are good for 3-season hillwalking in the UK, apart from winter conditions, as they're not compatible with traditional crampons.
For winter walking that involves snow & ice - but not steep slopes - modern, more flexible crampons such as Kahtoola MICROspikes offer lots of grip.
They'll fit on pretty much any footwear, from running shoes to wellington boots, provding extra confidence - think of them as "snow chains for your feet."