Fisher's Favourites - Max and Paddy
Wednesday, 17 February, 2021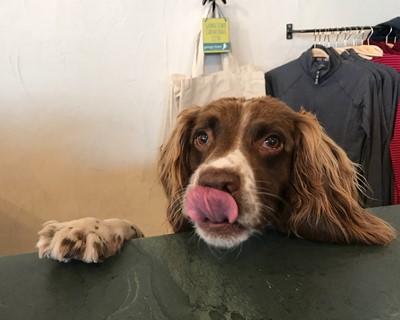 Today's Fisher's Favourite's are Max and Paddy Out in the Lake District.
The adventures of this pair of Springer Spaniels are posted online on their immensely popular Facebook and Instagram accounts. Search for 'Max out in the Lake District'
The Facebook page was started by their owner, Keswick based locksmith, Kerry Irving, just last year, and now the Facebook page has over 60,000 followers from all over the world!
Ten year old Max has been named Canine ambassador to Keswick, and has featured in local and national press, including being awarded the accolade of Countryfile Magazine's Dog of the Year 2016. He was joined earlier this year by puppy Paddy Padawan.
"One of our favourite shops on the Keswick treat trail. The staff always give us a selection of treats while the humans buy their outdoor kit. There's always a chance we'll sneak three or four as we tour the shop on the way up the excellent cafe. More treats available up there but for humans. Belly and ears rubs given freely by very friendly staff. A definite 5 stars on 'Barkadvisor' 

We'd love to hear your stories too!
Learn more about our month of celebrations and competitions, and how to get involved here:

https://www.georgefisher.co.uk/news/2017-08-15-celebrate-with-us-enter-our-60th-anniversary-competitions/