Local Legends 'Des and Gordie Oliver'
Wednesday, 17 February, 2021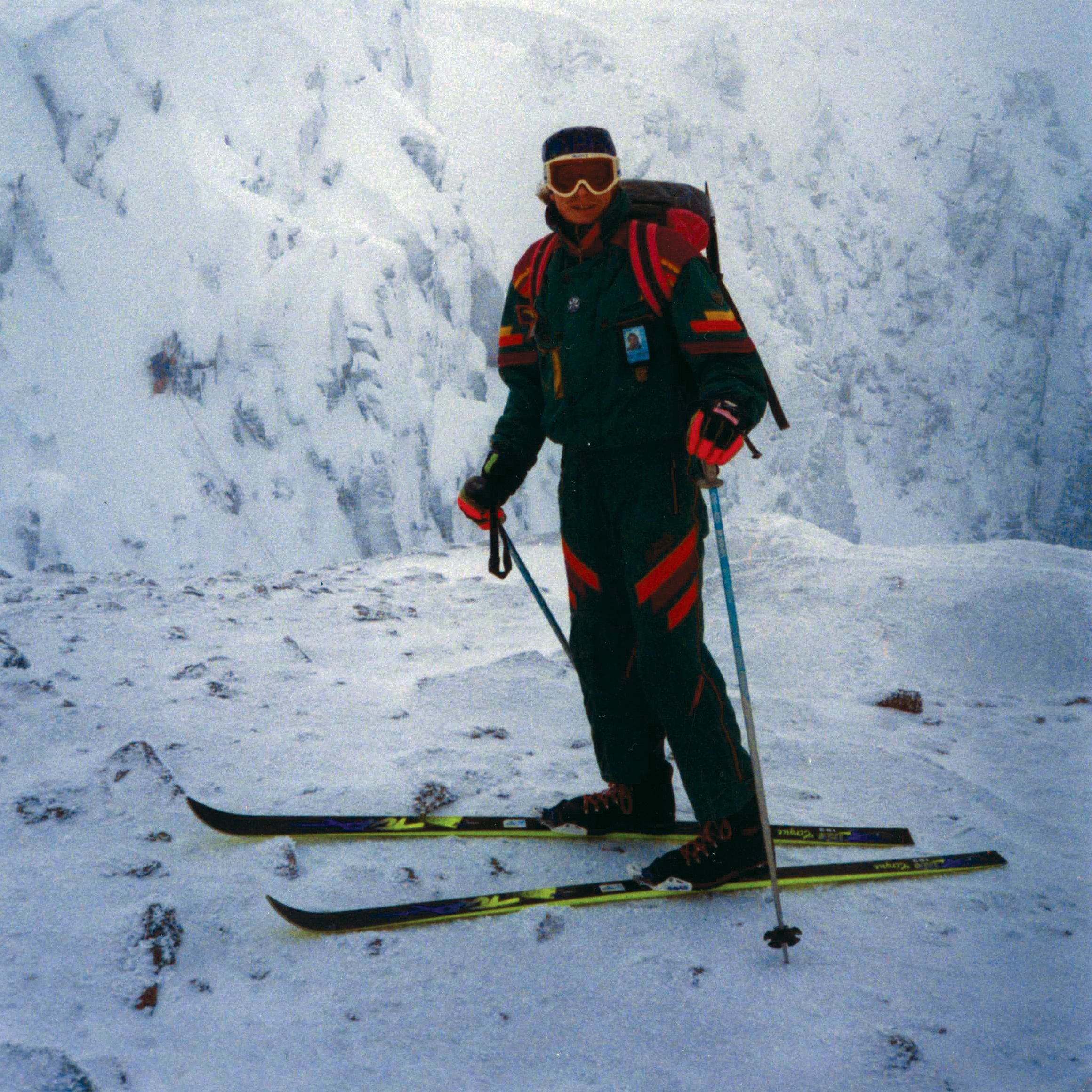 Long-term readers of The Update will recall our regular column from Des Oliver. Des is an absolute 'Lakeland legend' having been active all his life in the mountains, taking part in many early climbing ascents and fell-running feats. A few months back, FRANCESCA LEE caught up with Des and his equally active son Gordie, and sent this article.
Last year I met up with Gordie Oliver, and Des Oliver (Gordie's dad). For those who do not know Gordie, he is a skier, speed flyer and paraglider and pretty awesome at what he does (check out his YouTube channel). His dad has been skiing for many years and only hung up his boots two years ago at the hugely respectable age of 86, because he was struggling to get them on and off!
Des started skiing just after the war on Helvellyn. Having never skied before, his friends took him up the mountain and when he asked "So what do I do?" the answer "Just go down there" led to two dislocated thumbs after doing the splits. Amazingly these were the only injuries sustained by Des over his skiing career, apart from being wiped out by a snowboarder in Italy. He became a member of the Lake District Ski Club, alongside the Fisher brothers and many of his friends. His skis and poles were made solely out of wood and cost him £10, while the boots were ankle height, lace-up leather and only cost him £5 from Timpsons when it was in Keswick. On his first trip abroad, to Lech am Arlberg, he bought new boots - size 13 - with the shop assistant joking he would only need to add tips to make skis! When plastic boots came out, they were the equivalent of the first iPhone; everyone would stop and stare at their beauty and needless to say, Des soon upgraded.
As for skiing in the Lake District, both Gordie and Des have skied all over. The George Fisher tow (now belonging to Keswick Ski Club, run by Gordie) was the first ski tow in the Lakes and was placed in Kingsfield (Thirlmere). The tow then moved higher to the peaks of the Lake District for more action. It was then that the hut at Raise was built, brought up on a tractor, put in place and wired down by locals from Keswick so it was secure in the storms. Des was in charge of checking the hut each week. The original hut was nearly burnt down once by some mischievous Duke Of Edinburgh participants, but storms determined the fate of the original and second hut and so it is now in its third edition.
The Lake District isn't the only place where Des has enjoyed exploring; nearly 60 years ago he did an eight-day ski tour from Zermatt to Chamonix, staying in mountain huts. Gordie followed in his Dad's ski tracks and became a ski instructor in Cormayeur, where he met his wife. Des loves the Alps and brought up a family of adventure seekers; although he may have put his feet up, the rest of his family certainly haven't, and the Oliver legacy continues.