SPRING MEANS... CAMPING TIME!
Wednesday, 17 February, 2021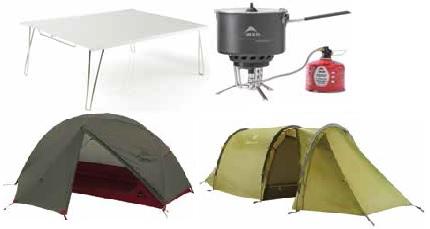 Spring is here, which sees many outdoor enthusiasts rifling through their camping cupboards checking what's survived last season, and what needs replacing. The good news is, there are plenty of new ideas in store!
Hilleberg continues its trend of gradual tent evolution, by bringing their increasingly popular sand colour flysheets to the 'Yellow Label' three season designs. These offer much of the robustness of Hilleberg designs, coupled with lower weights and better ventilation than their existing models.
If you like four season tents, but with lower weights than offered by Hilleberg, take a look at the MSR Access series. These use the new Easton Syclone poles, made of composite materials, offering greater flexibility than aluminium or carbon, and therefore much less likely to fail in strong winds.
MSR also have an addition to their Elixir range of excellently priced backpacking tents. The new Elixir 1 is an absolute bargain at only £200, offering a solid and roomy shelter for one person.
If you are looking for more room, and the ability to pitch outer-first then Marmot are providing some very compelling options. The Haldor 2 and 3 person tents have a traditional tunnel design, with the added feature of the large porch being removable to lighten the load. This make these tents super versatile, being lighter for backpacking and larger for car camping or longer, bad-weather trips. Marmot are also introducing their Taranis 2 and 3 person tents. These gives geodesic strength, combined with two entrances. Great for foul weather performance, and pitching on rocky surfaces like beaches.
MSR have also expanded their stove and cookware range. At long last, they have released a remote canister version of their popular WindBurner stove system. The Group System gives all the advantages of the fast, efficient burner, but with a bigger pan, ideal for cooking more complex meals, rather than simply boiling water. As with the Windburner Personal stove, all the components neatly slot inside the pan, including a gas cartridge.
If you want something a little more compact, then the MSR Pocket Rocket 2 gains solo and duo 'Trail Mini' pots. These come with a nesting cup, and pan handle that will fit inside the pot along with the stove and gas canister.
A great accessory for more luxurious backpacking or simple car camping are the GSI Ultralight Tables. Coming in small and large versions, they are great for keeping your cutlery out of the mud, and giving you a flat area to cook on. Or just somewhere to place your G&T!
We have more equipment than ever in our basement camping department, so please pop in to have a chat with some of our enthusiastic staff.