George Fisher ABRAHAM'S TEA ROUND
Wednesday, 17 February, 2021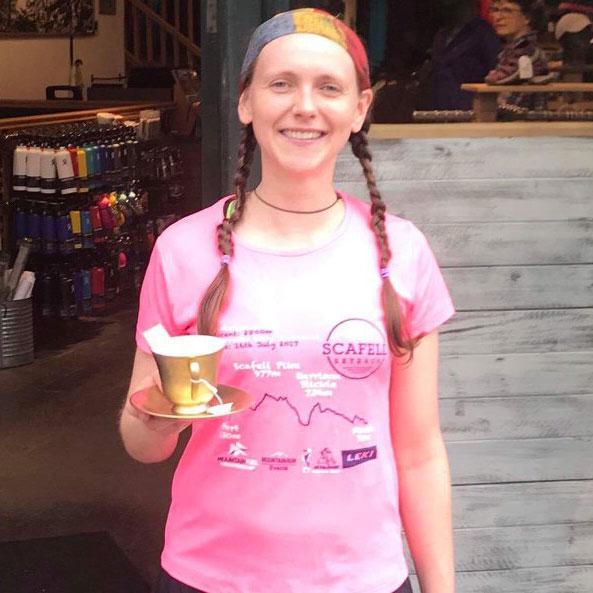 Inspired by the skyline view from our Abraham's Café, the Round starts at the doors of George Fisher. The route goes through Portinscale village before heading up and over the top of Catbells, down to Little Town in the Newlands Valley, then over Robinson before descending to the shores of Buttermere.
A steep climb up to High Stile and back down to Buttermere via Red Pike and Bleaberry Tarn precedes a long slog out of Buttermere up Whiteless Pike. The route heads over to Crag Hill, traversing along and then up Grisedale Pike, before doubling back to reduce the climb up Hopegill Head. Back towards Crag Hill from Hopegill Head, up Eel Crag, across to Sail and Scar crags then descend Causey Pike onto Rowling End. Then it's a drop down into Stoneycroft Ghyll before popping up the last fell of the day, Barrow, and back to Keswick and touch the doors of George Fisher.
'A 30-mile route with 12,000+ feet of ascent'
Since its inception last year, the Abraham's Tea Round has gone from being "a bit of a laff" to something than more and more fell runners are targeting. Everyone that does it gets a Golden Tea Cup, refreshments on us, and a bit of social media glory. We'll regularly be reporting the scores on the doors, a roll of honour of completers with their times.
As we go to press, these are:
29th June 2017 – 10hr 26min Andrew Martindale (NFRC)
29th April 2018 - 10hr 18min Natalie, Clare and Liz (NFRC) 3rd June 2018 - 7hr 39min Northern Fells Running Club Relay with Natalie, Liz, Clare, David, Steven, Richard, Rose, Alistair, Jenny & Claire
30th June - 10hr 15min Stuart Percival (Sunderland Strollers)
13th July 2018 – 9hr 17min Paul Wilson (NFRC)
13th July 2018 – 8hr 51min Catherine Spurden (KAC)
14th July 2018 – 14hr 29min Christopher Colla (NFRC)
21st July 2018 – 10hr 59min Paul Foster (Club of Paul)
1st August 2018 – 7hr 27min Sam Holding (Cumberland Fell Runners)
11th August 2018 – 8hr 44 min Chris Curtis and Steven O'Keeffe (NFRC) completed 'The First Tandem Reverse'
20 August 2018 - 6hr 46min Nic Ward (NFRC)
More details, including Strava route, current leaderboard, rules, guidelines can all be found on our Abraham's Tea Round section on our website: https://www.georgefisher.co.uk/community/abrahams-tea-round/