Top Five Dog Friendly walks near Keswick | George Fisher Blog
Written by George Fisher
Friday, 19 February, 2021
Misty is a 5 year-old Alsatian who was born and raised in West Cumbria - like her owner, she absolutely adores her countryside walks, particularly those that involve serious doggy fun, like splashing in lakes, paddling in streams, admiring the views and playing hide and seek in the forest!
But where to go without coming across stiles and other obstacles that can really spoil a big doggie's fun?! After several walks where we were left feeling disappointed by such obstacles, Sharon (Misty's owner) decided to write a series of books outlining their favourite routes
Keswick is one of their favourite places to go, it's such a picturesque, very dog-friendly town and there's so much for the visitor and local alike, with lots of great shops, cafés and bars to choose from, as well as various activities to try! One such store is George Fisher - with friendly staff and a great choice of outdoor gear, (as well as a brilliant café), you really can't go wrong!
We're honoured to have been asked to write a short blog about our top 5 favourite doggy walks in the Keswick area (and to be honest it's been so hard to pick!), so here goes!
1. Walla Crag  -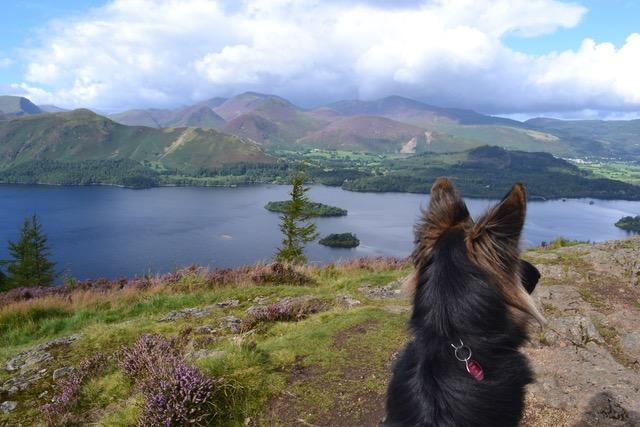 With cracking views and a lakeside paddle, you really can't go wrong with this one! We gave this one a 3 paw rating, which means it's a moderate walk with a bit of climbing. Still, it is easy enough for most, and once you reach the crag you will be blown away with the views! It's a superb place to rest before continuing along a pleasant path (and more spectacular views!) to visit the famous Ashness Bridge, with a couple of exciting options to return to the car park/bus stop
2. Whinlatter Top -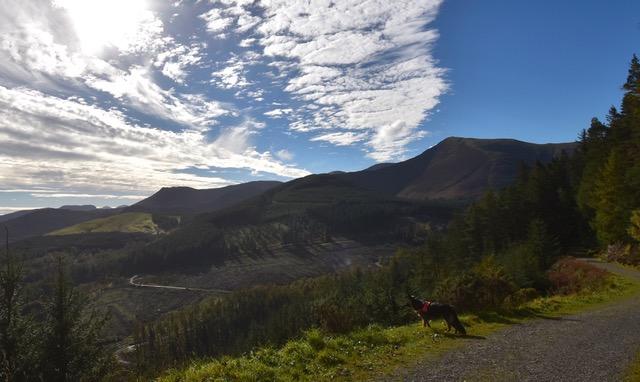 A quieter walk, with superb views and the chance to safely let your dog off the lead! Another 3 paw walk of 5 miles, but again, suitable for most abilities, and with the option of making the walk shorter, should you feel you've walked far enough half way round. The walk begins from the fabulous Whinlatter Forest Visitor Centre and winds it's way through the trees before heading out onto unfrequented wild moorland where you can often have the views all to yourself! After that it's a return to the forest to visit another, more popular summit with easy-to follow arrows to take you back to the visitor centre. There's also a dog-friendly café there and a lovely gift shop!
3. Derwentwater Ramble -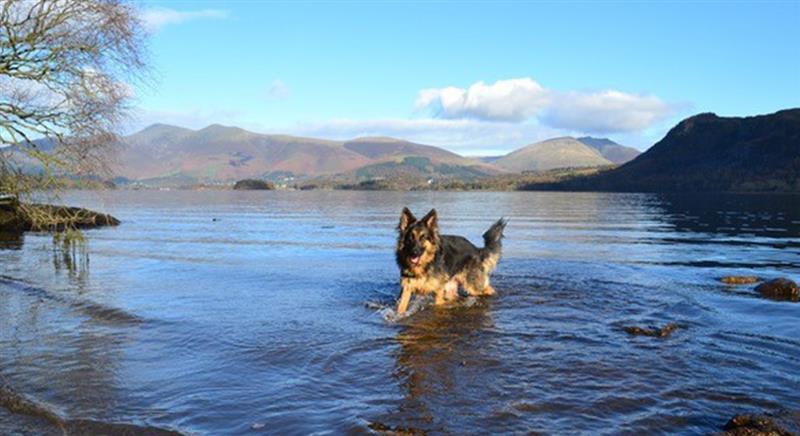 A gem of a walk, and although it is 5 miles long, we've given this one an easy 2 paw rating because it follows simple paths with a gentle climb (there's even benches to sit on in places!) before descending into the valley where your besties can enjoy splashing around in the lake and walking through delightful trees on the return to the car. The views from this walk are absolutely stunning!
4. Borrowdale -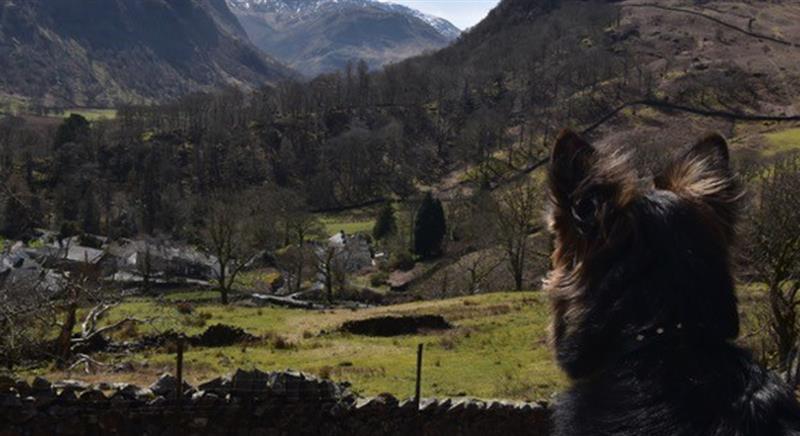 At around 6 miles long, we have given this one a 3-paw rating. However, if you wished you could just do an easy 'there-and-back' version along the valley bottom. The walk begins at Seatoller, which is a pretty village at the head of the Borrowdale Valley, and the route winds its way on wide footpaths with super views overlooking the valley. There's crystal clear streams and waterfalls to be seen along the way and the walk winds pleasantly through mixed woodland beside the river, before returning to the National Trust car park and bus stop. We especially love this walk in the late Autumn as the colours are simply amazing!
5. Brandreth -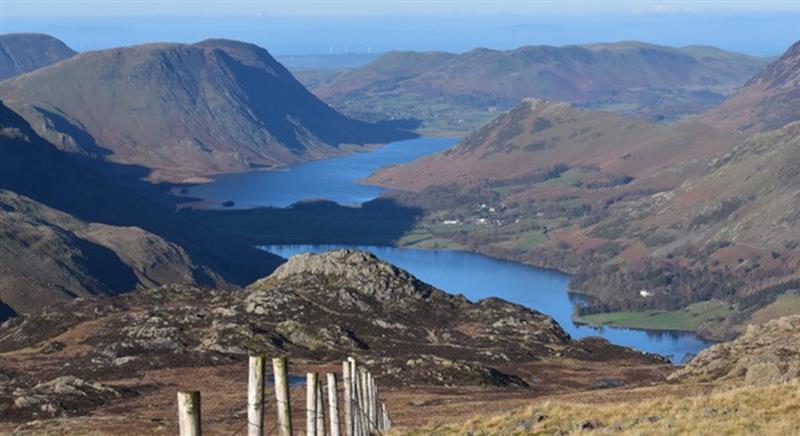 For the more adventurous - Brandreth offers a proper mountain walk with a steady climb, suitable for most fit dogs (and humans!) We've given this one a 4 paw rating. The path begins steeply but it soon levels out to climb steadily along an easy to follow path before taking a detour to the summit. The views are out of this world and again it's quieter than some of its nearby neighbours. There's an option to change the walk to make it shorter if required, or it's an exciting walk through the heather to explore more fine views over the Buttermere valley before returning to the car park/bus stop! Don't forget your camera!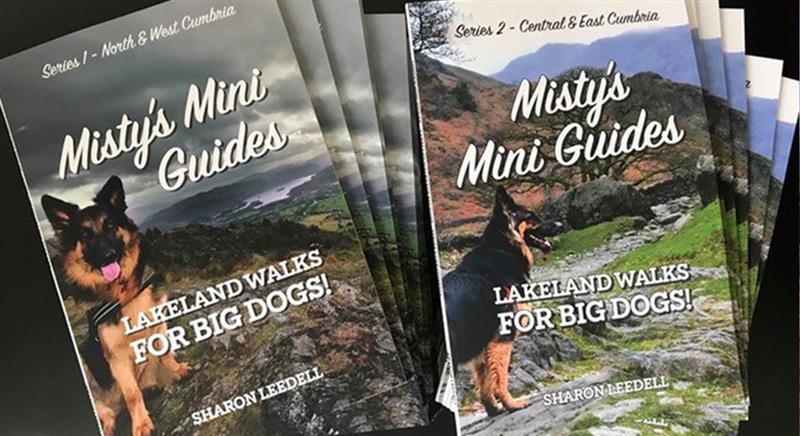 There are currently two guides available - the Keswick one is Series 1 - North & West Cumbria, and there's also Series 2 - East & Central Cumbria, with a third book on the way for South Cumbria!
There's 20 routes in each guide and the walks are graded from easy to strenuous, with a pleasant mix to suit all abilities. There's also hand-drawn maps, notes of the Countryside Code, a description of each walk, and for further reassurance, readers may also download free GPX files for their compatible devices!
The guides are priced at £11.99 and are available from Amazon, Bookends of Keswick and other local sellers. (Please see Our Facebook Page or Our Book for further information)