Photographing Wildlife in the UK
Wednesday, 17 February, 2021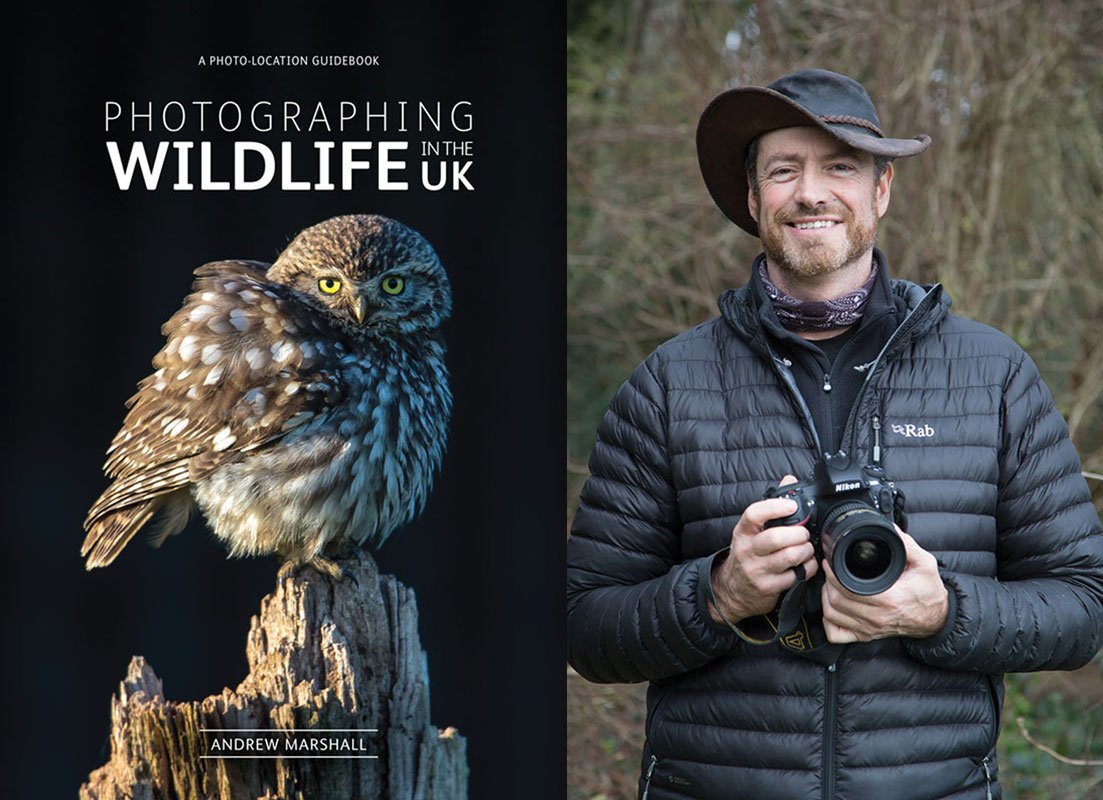 Photographing Wildlife in the UK 
by Andrew Marshall
Among the more recent additions is the fotoVUE series of photography location guidebooks that show you where to take the best photographs in an area, while also giving practical advice on how to improve your photography. Current titles include the Lake District by Stuart Holmes and North Wales by Simon Kitchin, but there's also a new fotoVUE book about where to go and how to photograph the UK's wild creatures, Photographing Wildlife In The UK by Andrew Marshall.
Andrew is a wildlife photographer born and raised near Keswick, the perfect place for being close to wildlife. He spent days in his youth watching roe deer and red squirrels in the local woods, dreaming of one day encountering rare animals such as otters and ospreys in the wild. It is a dream come true that, thanks to recent conservation measures, these enigmatic species can now be seen again thriving in the local area where he grew up.
Now living in the Cotswolds and returning frequently to the Lake District to visit friends and family, Andrew always tries to grab a day or two to look for the local wildlife that cannot be found in the south of the country.
High on the list for any visit is the very photogenic red squirrel. Absent now throughout most of England, the red squirrel is restricted to a few enclaves like the Lake District where it has remained isolated from the deadly squirrel pox carried by the non-native grey squirrel.
The red squirrel represents a fantastic subject for a wildlife photographer, being undeniably beautiful and full of character; the red ear tufts and bushy tail are instantly recognisable. In many places around the Lakes, red squirrels are easy to see and do not require years of field craft practice to get close for some good photos. Always remain quiet and as still as possible. Ideally, wear dull-coloured or camouflage clothing made from soft, rustle-free fabrics to get the best views. Bird feeders or specialised squirrel feeders create good locations to see squirrels coming regularly for food. Leaving a few hazelnuts on top of a log will encourage the squirrels to approach and stay in view long enough for a photograph.
Red squirrel hotspots in the Lake District include the visitor centre at Whinlatter and the Borrowdale valley, Thirlmere forest and the Haweswater Hotel on the side of Haweswater.
Squirrels are quick and commonly live in dense woodland where light is limited. Winter, spring and late autumn are good times to find them, when the leaves are off the trees. A good zoom on a compact or bridge-type camera can get some fine images, but for best results use a digital SLR with a long zoom or telephoto lens. You will usually need a fast shutter speed and a wide aperture to capture these enchanting little characters.
In Photographing Wildlife In The UK, Andrew describes 70 of the best locations for wildlife photography across the country. Lavishly illustrated, and featuring over 450 stunning wildlife photographs, the guide includes detailed advice on locations and how to achieve the best images in each situation. Look out for more fotoVUE books coming soon: The Peak District, Scotland, Devon and Cornwall, Yorkshire Dales, The Dolomites, South Wales and Iceland.