Our final Fisher's Favourite is you, our customers!
Wednesday, 17 February, 2021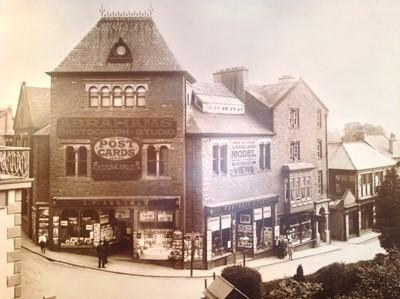 We've saved the best till last, our final Fisher's Favourite is you!
Today we celebrate our 60th Anniversary, and it could not have been possible without you, our customers!
Celebrate with us instore today, with Cake and Bubbles, a 60th Anniversary Pin Badge, and copies of the 100th edition of our Update Magazine! We'd love you to join us from 10:30am!
Everyday we open our doors, to something new, different, and a wonderful variety of enquiries, questions, and conversations as obscure as you could ever imagine! No two days are ever the same!
George Bernard Fisher was born at Thirlspot in 1925, and originally George trained as an electrician but his love for the mountains encouraged him to become an outdoor instructor with Outward Bound.
His love of the mountains, and a lack of equipment available at the time led to the opening, in 1957, of the original store at 17 Lake Road, where George sold equipment made in the UK, or imported from Europe.
After 10 years, in 1967 the Abrahams Family were winding down their photographic business, and George purchased the building at 2 Borrowdale Road, where the business resides to this day!
In that time we've seen, and been through a lot!
When George Fisher himself opened the original shop on Lake Road we had hemp ropes, and waxed cotton;
We've seen climbers and alpinists off to the greater ranges, Europe, and of course exploring locally just down the road Borrowdale;
Who remembers Ronhill Tracksters in the 80's?;
The purple jackets of the 90's?;
Foot and Mouth at the start of the millenium;
Storm Desmond just less than two years ago;
We've seen marriage proposals;
We've seen children exchanging their boots with us, grow up and bring a family of their own to get fitted up;
We've seen those who come in for the broth from our Abrahams Cafe, as a respite from the Autumn rain; Cold homemade lemonade in the Summer heat;
We've seen those who come in and hire a child carrier to take their little ones on their first outing in the Lakes;
We've seen the arguments 'as HE's forgotten our boots!', and we respond with a smile, and measure you up for hire boots;
We've seen you raise your eyebrows, as we say, 'certainly, we can fix that!'
We've seen the tears as we break it to you, that your favourite fleece won't survive 'just one more wear';
We've seen the new puppies bounding in, and the old dogs, on shorter walks now;
Mr Muer who visited us this April at age 102 to buy his new boots.
The old jackets that have outlasted jobs, house moves, and the years through school;
The walking socks, that should have been replaced a few generations ago!;
The lady who wanted the inside of her sleeping bag a different colour;
The friends we've made; who visit us year on year;
The technologies and equipment we've seen over the last 60 years have changed beyond recognition.
However, the hills and the weather here in Keswick haven't changed much; and we're very much looking forward to opening the doors today, tomorrow, and beyond, to see who comes through them, as we set off on another year of helping you explore the great outdoors!
Here's to another 60 years!
Sean and all of us at George Fisher.