Nirvana in Nepal
Wednesday, 17 February, 2021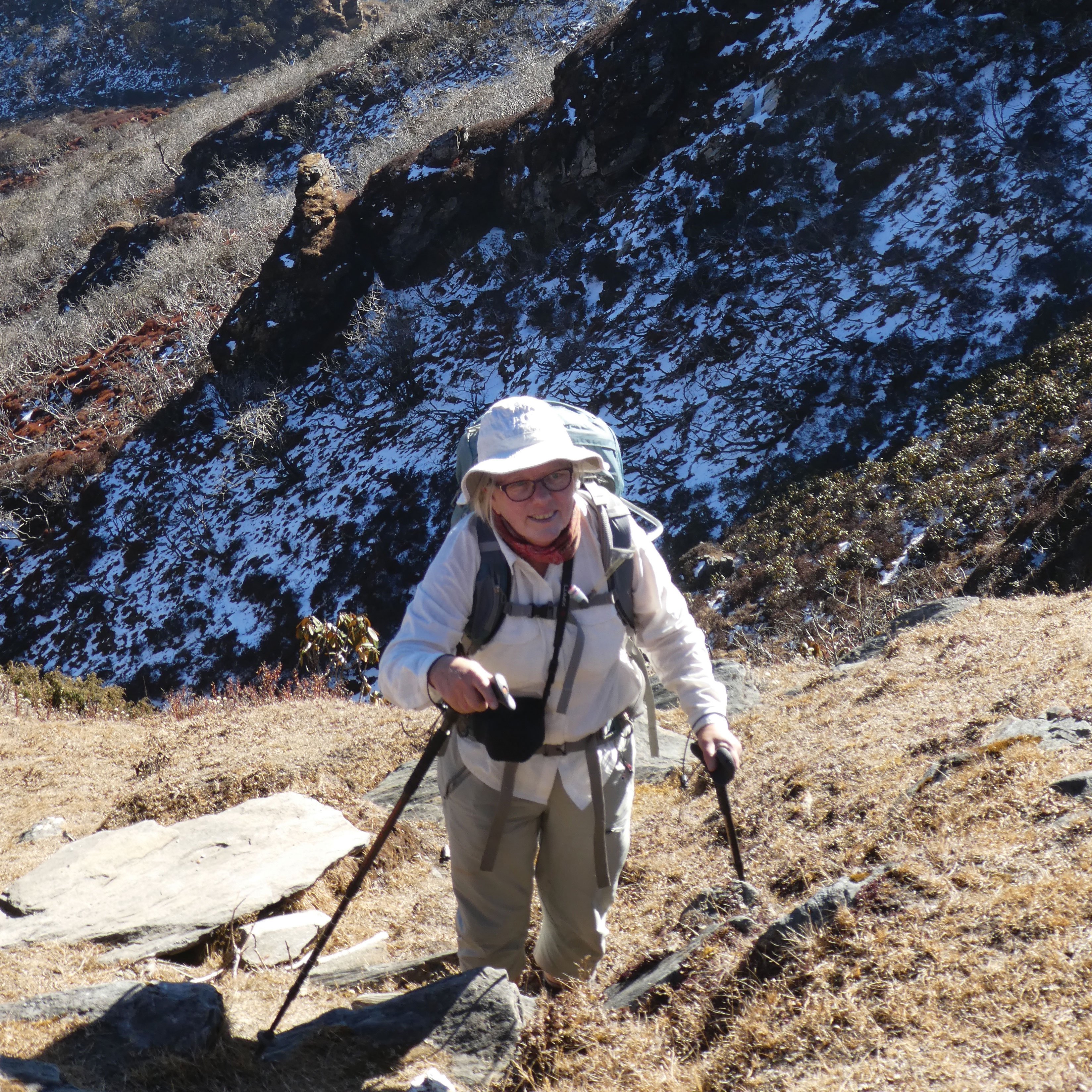 Andrew Stanley from the Rebound Clinic in Settle is our 'in-house' podiatry expert. Andrew has worked closely with George Fisher since 2000, training our Boot Room staff in foot mechanics, and bringing his expertise to our customers through his regular in-store clinics. You can benefit from his advice by booking an appointment; see our website events for dates and information.
Here's another uplifting tale from a happy customer:
"I first experienced pain in my left foot in 1997, and was diagnosed with a Mortons Neuroma which was treated by injections. Although this never fully eradicated the symptoms, my feet were a little better and it allowed me to walk on the hills. Since then I have continued to enjoy fell walking, and after retiring, booked with my husband and friends on a guided trekking holiday in Nepal for November 2017.
"However, during the year I became aware that both my feet were beginning to ache after lengthy walks, and getting worse the more I walked. I went to George Fisher in Keswick to buy new boots, thinking this would solve the problem. While I was trying on different footwear, my boot fitter mentioned that there was a podiatrist (Andrew Stanley) in store that day who may be able to offer advice.
"Andrew had a free appointment and during a brief consultation he explained how my feet needed correction and support. He suggested that I try off-the-shelf insoles available in the store first, and gave me the details of his Rebound Clinic to contact if they did not work. They did not! After the longer walks I was doing to get fit for Nepal, both my feet continued to be very painful and I was beginning to worry that I may not be able to walk on the hills at all, let alone go on a trekking holiday. I feared that I might have neuromas in both feet.
"So, I contacted the Rebound clinic and made an appointment"
Andrew was very reassuring, and immediately made a temporary pair of orthotic inserts for my walking boots. These took only a few days of wearing to get used to, and after two hostel-to-hostel walks in the Lakes, each lasting three days, my feet were pain free! He then made me a final custom moulded, made-to-measure pair of orthotics which I used on my holiday. We trekked for 12 consecutive days, reaching 4,000 metres and crossing mountain passes in the Ganesh Himal. Some days we walked further than others, but I always wore my walking boots from 6am to 9pm and they were perfectly comfortable. It was a fantastic experience!
"Now I am back in the UK, I have another pair of orthotics to wear in my everyday shoes to ensure that I never experience painful feet again. It is good that the boot fitting department at George Fishers is staffed by people who are well informed by a professional podiatrist to whom customers have access. I am a very satisfied customer!" Kathy M
We specialise in boot fitting and have several in-shop services that may help you on the way to finding the right footwear for your next adventure:
We also have a Correct Fit Guarantee on all Boots and Ski Boots:

All this, ski boots included, is backed up by our correct fit guarantee. We hope that between us we have made a good choice in the selection of your footwear. If, after using your footwear for a while, your feet are uncomfortable, please contact us as soon as possible. If we cannot resolve the problem, we will refund an appropriate amount that reflects the condition of the boots and the length of time you've had them. Ask in-store for more details.