Will Copestake - Trailblazer
Wednesday, 17 February, 2021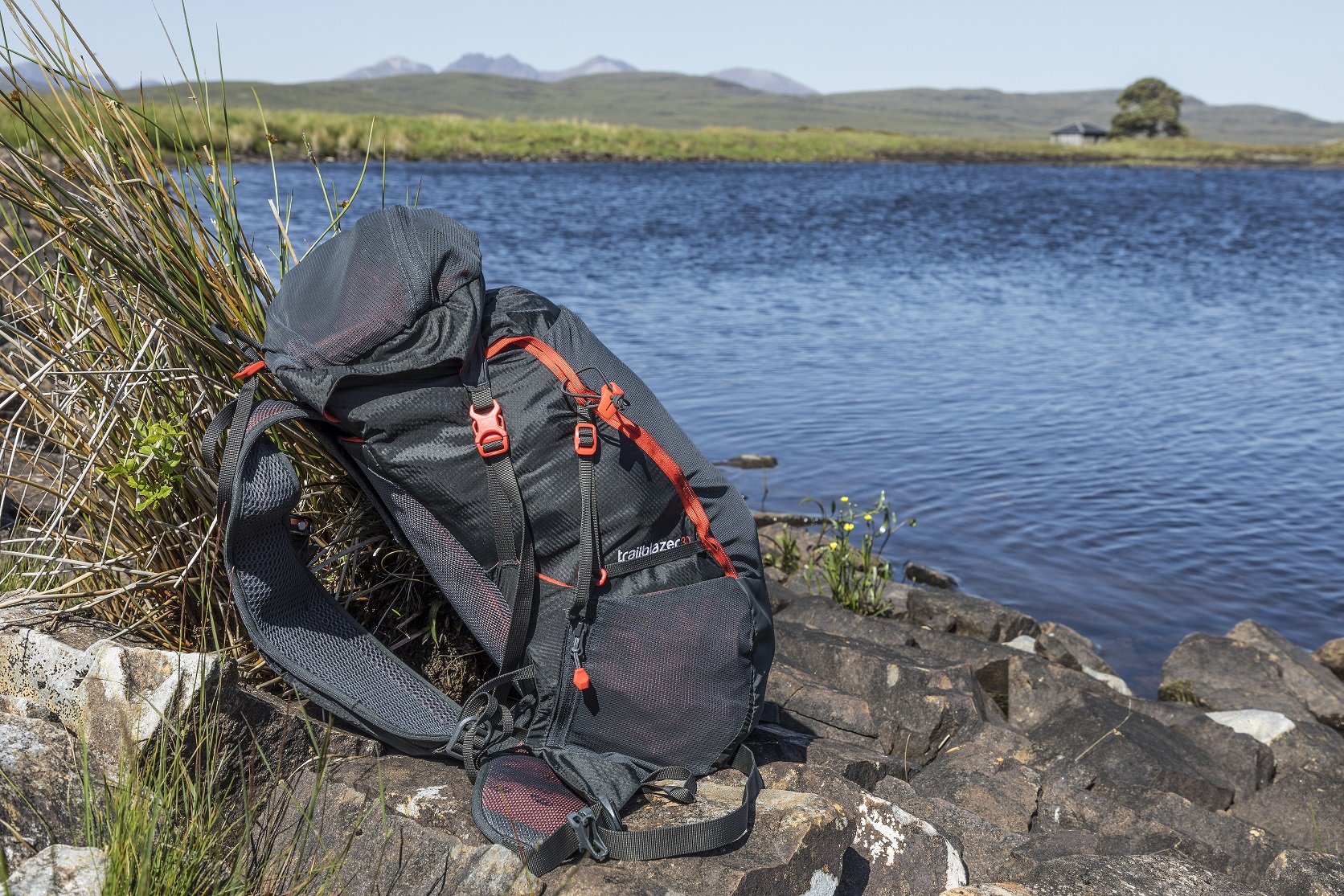 Over the last few months, I've been trialing the Montane trailblazer 30 backpack. I've been using it for winter and summer hillwalking, fell running and as my primary 'guide bag' for day trips.
First impressions are of an excellently put together pack that is phenomenally comfortable, sleek and user-friendly. I am and always have been a huge advocate for simplicity in backpacks. Less is more, which I feel on the whole the Montane pack delivers. There are a few quirky features but I've found their function to be extremely useful so far. Here's my breakdown of what I've found.
Fitting:
Ok, so I'll pre-empt this by saying that I'm short. Packs usually don't fit me too well. 
Adjusting the pack to my back was swift and easy with a velcro back system that shortened the length of the back, to my surprise this has held fast and doesn't slip over time and use. The shoulder straps tighten via looped webbing rather than more conventional loose ends, which after a little getting used to, I find works superbly especially in gloves or cold fingers. Plus the loops don't tend to whip up in the wind and don't need tied down which is nice.
Most interestingly are the trailblazer 30's twin chest straps which are a clip and rail design. I've been extremely skeptical of this lasting well in the field and surely believed it would fail after some rough use. This has not been the case so far and I'm now left wondering why this feature isn't on more packs. Yes, the clip system took a little getting used to but now Im sold. With numb fingers, gloves on or even when it's rimed up in ice, the clips have come on and off with ease which something I can't say for more traditional buckles.
The snug fitting is extremely comfortable, even when I've loaded the bag to capacity with guiding equipment or more heavy camera gear for a days photography work in the mountains it has held snug to my back.
Storage:
It is a simple, tube design with a top loading lid and delivers what I would expect from a normal daypack. An uncomplicated sack which allowed me to stuff and pack exactly how I normally would with my equipment: medical gear/bothy bags/spare clothes and waterproofs/lunch and a camera fit snuggly in the inner tube and smaller gear such as headtorch/car keys etc zip up in the top. I like that there are not many 'dangly bits' to get in the way in the wind.
The shoulder straps have two spacious pockets close to the chest. These are large enough to easily fit a GPS or phone in one side and plenty of snacks a compass in the other. Combine this with two zippered mesh pockets on the back of the waist straps and you are able to grab and go most necessary gear without taking the bag off. This is a feature I found extremely useful when running.I also found this helped to spread the load in terms of where gear weight was placed around my body which made for a snugger, tighter fitting pack when on the move.
Use in the field:
I first used the backpack on a wilderness first responder course and then short trek in Norway. Here, I was mostly carrying emergency medical equipment as well as camera gear, which made for bulky and odd-shaped cargo. The synch chords on the side of the pack held the gear tight inside reducing pack bounce on my back and maintained a comfortable fit throughout.
I found the quick release systems of the harness performed especially well when constantly taking the bag on and off to practice scenarios or photograph. My only complaint of the storage was the mesh bottle holder on the side of the pack could perhaps be a little deeper, as I found my bottle tended to topple out unless the back was fully packed. It is better perhaps to make use of the hydration bladder accommodation built in instead or stuff the bottle in the larger mesh net on the front of the pack.
Since returning from Norway I've converted to using the trailblazer as my primary day sack as I run guided trips in the North West of Scotland. It is just large enough to allow packing the required gear to lead trips including a bulky medical kit, clothes, bothy bag, and even a short rope. Even with this weight, I find the pack extremely comfortable and breathable enough to wear constantly all day on the hill.
I can say nothing but extremely positive feedback on the design. For its size, it is spacious, comfortable and lightweight. In all a great day sack.