A Beginners Guide to Wild Swimming | Ali Phillips
Written by Ali Phillips
Tuesday, 11 May, 2021
Wild swimming has boomed in popularity over the last year and the Lake District is a brilliant place to take your first dip. This summer at George Fisher we are stocking a brand new range of wild swimming kit, check out our new range here!
Ali Phillips is a Keswick-based blogger and wild swimmer who loves exploring the Lake District to find new swimming spots. 
Ali has recently become a wild swimming guide and is looking forward to spending the summer taking people swimming across the Lake District. Check out her new business page, Always Swimming Wild.
Ali has been kind enough to write a blog for us packed full of useful information for aspiring wild swimmers, here is Ali's Beginners Guide to Wild Swimming.
The Question I Always Get asked: Why 
Ask a wild or open water swimmer why they swim and it'll be one of a million reasons, but some of the most popular is the physical and mental health benefits. People start swimming for lots of different reasons and trying something is new but why do people keep doing it? What makes it so much better than swimming in a pool? 
For a start, here in The Lake District and around the UK you can swim in some stunning locations and spending time outside in places like these are proven to release endorphins and improve your mood. This is all before you even get in the water. 
The physical challenge of getting in the water should be celebrated more often. Wild Swimmers aren't crazy, they are pushing themselves to their physical limits in the cold water which makes them strong and resilient. Whether you swim for 3 months of the year in a wetsuit or year-round in your trunks, you are a wild swimmer. 
The mental health benefits are a big reason why I swim in the cold water. The full immersion that it takes to get in the water forces you to forget about everything real-life and mundane so you can focus on controlling yourself in the cold water. Ideal for the anxieties of our constant 'unprecedented times.' 
So enjoy the beautiful scenery from the water and take the cold water plunge into wild swimming!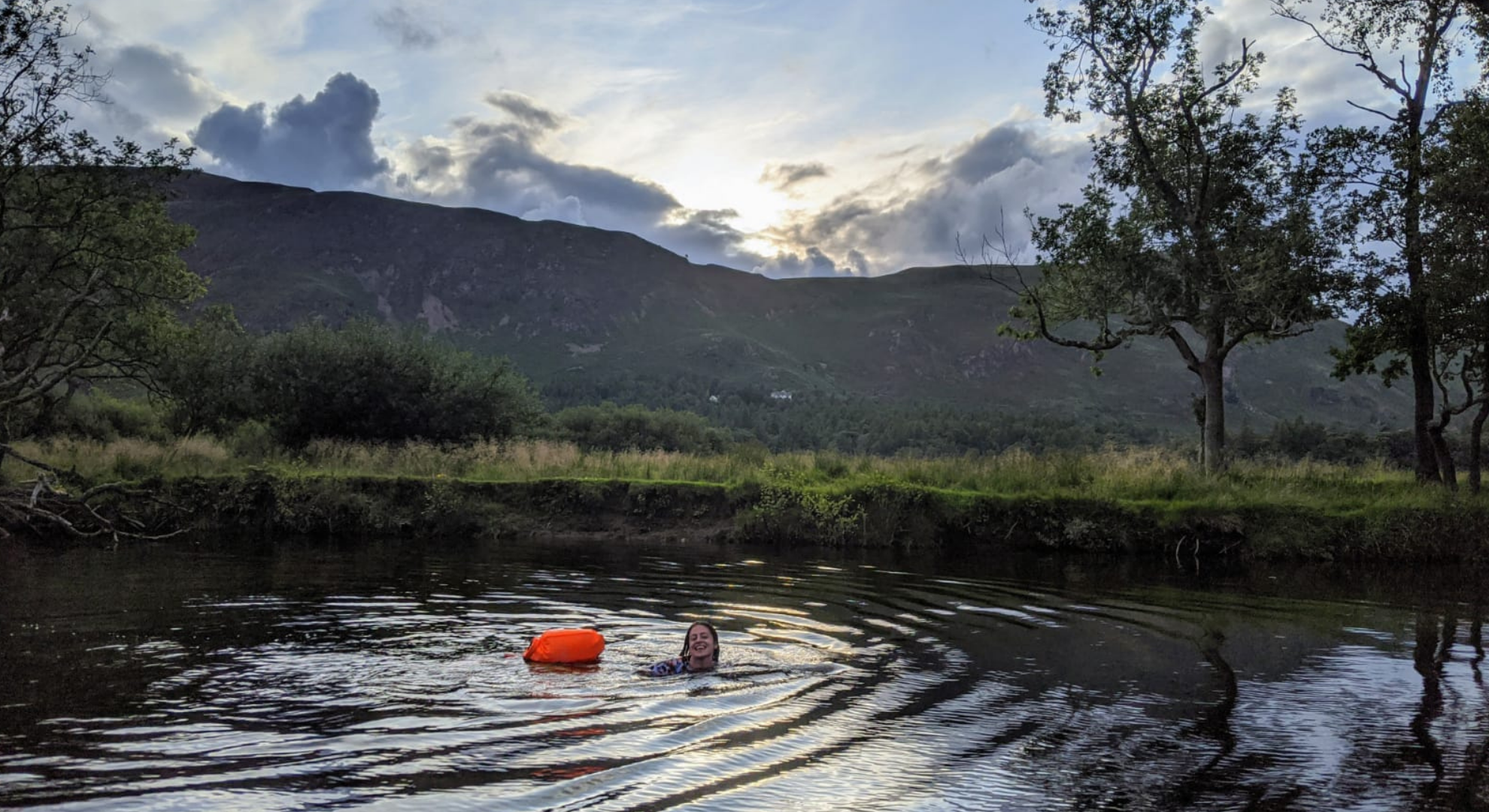 Safety
We must be safe in the water so here are 10 safety tips before you get started. I have linked more articles for you to read that go into more depth. 
1. Weather 
This isn't just about looking at the forecast the day before a swim but also constantly assessing the changes as you arrive at your swim, get in and your plan for getting out. The direction of wind plays a big part in how hard it will be to swim in a certain direction and how cold it will be when you get out, not to mention the possibility of your towel flying away! 
The warm weather can be an issue too. There will be a big difference between the air temperature and the water, especially in mountainous areas like The Lake District. Take your time getting in and acclimatising and remember the water will still feel cold, even when it's 15 degrees. The Outdoor Swimming Society have written about dealing with wind and rain here. 
2. Knowing Your Area
There are hundreds of great areas to swim in The Lake District and if you're local then you might know what it's like already but the likelihood is that you won't know the depth, gradient or what's underfoot in the water before you go swimming, You may be able to research some things online, find some information in a book, or ask friends who have been but when you are entering the water just take your time, maybe don't go out of your depth the first time and wear your tow float to make sure you're seen. You will still make the mistake of tripping over a rock or stepping on a rock that isn't there - trust me, not as fun - but it's easy to avoid most of the time.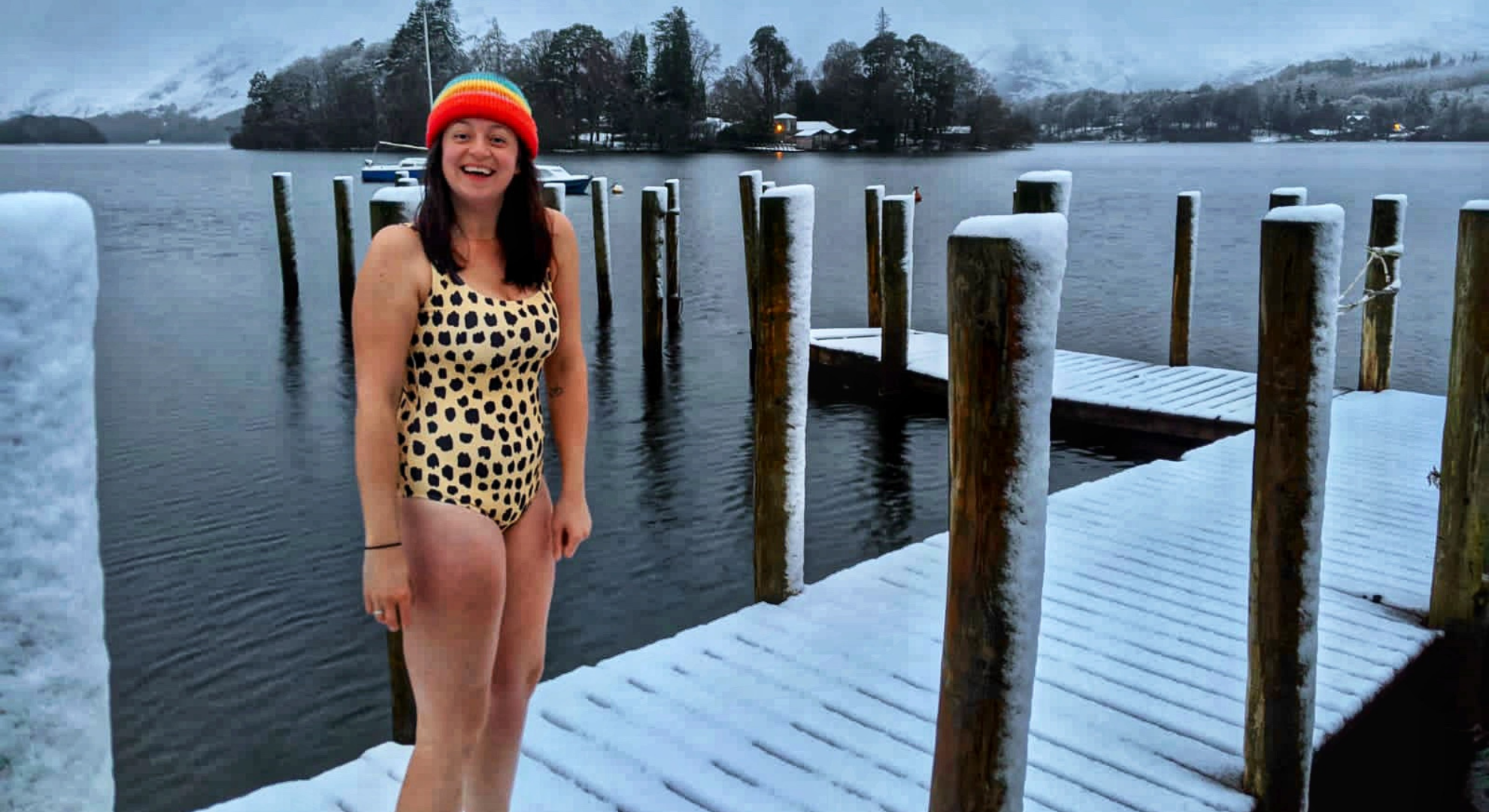 3. Know your exit before you get in
Having your exit point is vital. Know your entry and exit points before getting in, maybe mark your exit so you can see it from the water. Don't forget things look different from the water. If I'm swimming along a river then sometimes someone will walk the bank or meet me at my finishing point so I know where to exit.
4. Be Seen
Some waterways are busier than others and it's not just important that you can be seen by your friends or spotters but also by any boats on the water. The last thing you'd want is being caught by a paddleboard or a canoe by someone who didn't see you. Some swimmers will swear by a tow float helping them be seen in the water, they create a sense of security. However, they shouldn't be relied on for security and aren't lifesaving devices. 
Other things that they can be used for are when children are just starting out to make them feel more confident in the water or storing items like a smart device if you're tracking your swim or anything else you need to take with you. This article written by The Outdoor Swimming Society has more helpful tips, view here. 
Wetsuits with colour in or bright swim hats are other ways in which you can be seen in the water too. These also have lots of other uses to so are great pieces of kit to pick up.
5. Go with a friend/watcher
Not only is it more fun with friends, but it's also a great way to stay safe and have a spotter in the water. I started my swimming experience being shown around by friends and it's a great way to learn and gain knowledge from others before you go on your own. If you don't know anybody that swims or don't have any friends interested then someone can always watch from the sidelines or you can always book with a swim guide who can show you the ropes before you get going yourself.
6. Cold Water Shock
A common misconception is what cold water shock is. It all happens in the first 2-3 minutes of you being in the water and your body reacts with rapid breathing and gasping. This is very normal, even inexperienced cold water swimmers, and there are various techniques like the Whimhoff method that people practise to help reduce the effects of the initial shock. 
Deep breathing and treading water will help you stay calm and once this feeling has passed it will be easier to swim normally. Getting in the water slowly and taking your time is important, even in the warmer months. The RLSS have some fantastic information on cold water shock and water safety here. 
7. Access
The Right to Roam law means that a lot of the lakes and rivers in the UK are accessible and okay to swim in. Unless something is fenced off, on private land, or surrounded by signs that state no swimming, then you can probably swim there. 
In The Lake District, most of the waterways, lakes and tarns are amazing swim spots but places lie Haweswater and Ennerdale Water are protected so swimming isn't allowed. It's always worth checking before you go somewhere and more information about general access to the waterways in the UK can be found on the Wild Swimming website. 
8. Warming up
There is no secret trick to warming up or the all-round best way to do it. Everyone is different but there are some things everyone agrees on. When you get out of the water it's important to take everything wet off and get dry things on. Dressing from the top-down helps you warm your core first. There's no shame in wearing lots of layers and whatever feels warm for you. My personal favourite is a very flattering set of deer print fluffy trousers! 
Once you have all your warm clothes on you can dance your heart out to get you warm again and not forgetting a warm brew of your choice - although try and stay away from the Irish coffee. 
It's important not to warm up too quickly as this can cause chilblains and lots of pain, so not a great idea to jump in a piping hot bath as soon as you get out of the water. 
The Outdoor Swimming Society has written a piece about Afterdrop and the art of warming up on their website which will go into more detail. 
9. Common Algaes/Pests
Depending on where you live, there will be different bugs, algae and critters in and around your waterway. Here in The Lake District Blue-Green Algae and other non-indigenous algae. Although this is not too harmful to humans it can make you ill and cause more harm to your fluffy, four-legged companions if ingested. 
It is only harmful when it blooms and can be seen lying on top of the water too, however it is always best to steer clear. It's also important that between lakes you wash your kit out so you're not spreading it to lakes that aren't infected. More information can be found here. 
10. River Flow
Although not everybody swims in rivers, it's important to be aware of their specific dangers before you have a go. The levels of water and speed of flow are more likely to change depending on how much it has rained. Rocks can also move more so even if you're swimming there often, what happens on the riverbed can change regularly. 
Avoiding times when it has rained heavily or the days after whilst the water is still higher than normal is also important. If you're swimming in that part of the river for the first time, maybe walk along the bank to check for any areas where it gets very shallow or large rocks you might hit.  
Your First Dip
So what is your first dip going to feel like? Cold, probably! Like trying anything new, you'll be nervous or apprehensive and that is okay. If you're with a friend they might show you where to go or you've found somewhere to swim yourself, either one is great.
Maybe wear your swimwear underneath your clothing to avoid excess faffing then you can get straight in. Try and calm your breathing and keep it at a steady pace whilst you are experiencing cold water shock.  
For a lot of people they won't swim on their first try but getting in is all that counts the most. I think it's important not to expect that you're going to swim far or stay in for a long time. This will come with practice and swimming regularly. 
When you get out of the water you will feel INVINCIBLE! Have your celebration and don't forget to take a picture then it's time to warm up and get changed, I'm sure there will be lots of faffing, getting the wrong leg in the underwear and dropping your wetsuit in the stones. However, once you are changed, dancing around to warm up and sipping on a hot chocolate then you'll feel incredible!
Tips and Tricks
I've been swimming for a few years now and there are a few tricks and tips I've learnt along the way that help me stay warm and have fun. 
Woolly Hats. They look great and keep my head warm. Most of the time I'm not putting my head in the water so these are a fab way to keep my noggin toasty whilst also helping you be seen from the bank. 
Reducing the faff! I often swim before work in the morning or whilst out on a walk in the summer so reducing faff and not hanging around whilst getting changed is important for time and helping you get warm quicker. I normally sack off underwear because bra straps plus numb thumbs aren't a great combination. I also find having a big towel or robe is super helpful. It warms and drys at the same time, whilst giving some protection from the elements. Some swimmers keep these on to drive or walk home in too. 
Snacks are so important and after getting out of the water I always want something yummy. Cake or last night pizza is my current favourite, but we don't discriminate here! A good energy bar might help as well to perk you up again because cold water swimming, even for a short time, burns a lot of energy. 
Whether you are going to be dipping up to your knees or looking to swim long distances in a wetsuit or a swimsuit then you are part of the open water swimming community.
Happy Swimming!