Arc'teryx Nuclei FL Review
Written by George Fisher
Wednesday, 17 February, 2021
It's no myth that down jackets just aren't ideal for our wet British climate. You can go from being wrapped up warm in your lovely puffer jacket to being soggy and cold on the arrival of a rain shower, wearing something resembling a bag of porridge. That's not to say they don't have their uses. Down, conventionally, has the best warmth to weight ratio of any insulator as well as packing down incredibly small compared to its synthetic relatives. But what if there was a jacket that could do it all; compact, lightweight AND one that stays warm when wet?
I was given the Arc'teryx Nuclei FL to test back in September, just in time for a cold wet British winter. On a University climbing club trip to the Lakes we were unlucky with the weather so ended up doing what a lot of climbers do when stuck in Borrowdale on a rainy day; the classic mountain route Corvus. We set off early in an attempt to get most of the way up the route before worse conditions were forecast to come in. Unfortunately by the time we had reached the second pitch it was already raining! Up to this point I'd forgotten I even had the jacket clipped to the back of my harness, in its stuff sack. It packs down to about the size of a squash and weighs in at just over 300g meaning that you don't realise that you are carrying it!
At each belay I threw on the jacket whilst waiting for my partner to follow me up and stayed super warm and comfortable. Arc'teryx's coreloft insulation seems to expand and almost 'inflate' trapping large pockets of warm air next to your body. I've found it to be comparable to down in terms of loft, which I've never seen before with a synthetic jacket!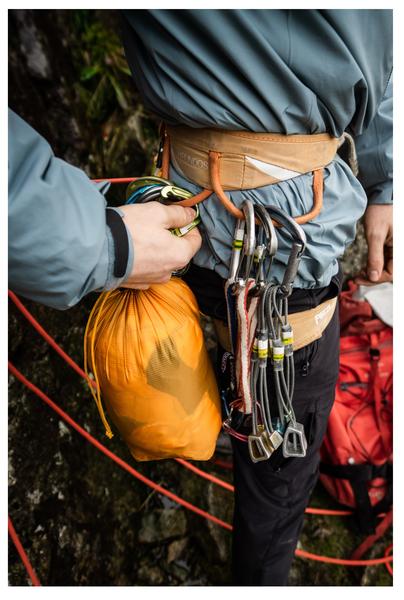 As the weather worsened, I was surprised at how the jacket managed to keep the elements out. The 10D Ripstop Nylon outer fabric is super lightweight, and initially I didn't think it would be up to the job, but I was proven wrong. It is completely wind proof, and shrugs off rain and snow.

As the jacket doesn't let much in, it also doesn't let much out. It's not designed to be worn whilst moving so won't allow sweat to escape but as a layer to put on whilst stationary, it's perfect! The thin 10D Nylon, which makes the jacket so light and packable, probably wouldn't stand up to much beating, but again it's designed for being worn whilst stationary where this isn't a problem. That said, after 5 months of wear, mine looks as good as new!

The jacket features two large inner pockets to dump gloves, hats etc and has hand warmer pockets on the outside. The jacket only has two points of adjustment; one on the hood, and one around the hem, but for such a light jacket, this can be expected.

The main thing that I liked about this jacket was that it stays warm when it's wet! Unlike down, the coreloft insulation doesn't clump or collapse so even in the worst conditions, provides warmth. The Nuclei FL is fantastic for 'stop start' activities like climbing and mountaineering where you can quickly throw it on over all your layers (including a helmet) for a shield against the elements until you start moving again. The fact that it packs down small enough to clip to your harness makes it the best belay jacket I've used for winter climbing. It also fits easily into a running vest, so I've taken it fell running as an emergency layer if I needed to stop.

If you are looking for a synthetic jacket with an excellent warmth to weight ratio, to wear in wet and windy conditions, then this is probably as good as you will find!