Five ways to be more Eco-friendly on the trail
Written by George Fisher
Wednesday, 17 February, 2021
'Environmental crisis' is quickly becoming a household phrase. It seems that more and more people are becoming aware of the impact we have as humans on our planet, and how important it is that we all do our bit for the earth; no matter how small an act it may seem.
As an avid outdoor lover, I have seen the effects of climate change first-hand; from receding glaciers in Chamonix to hot, dry summers in the Peak District. It seems only natural that those who love spending time outdoors should want to protect it, and one of the simplest ways you can 'do your bit' is by making as small an impact as possible - whether that's hiking, mountain biking, climbing, wild camping or swimming.
Last weekend, I went out wild camping in the Lake District and that time spent on the trail and in my little tent on the banks of Angle Tarn had me reflecting on ways to be eco-friendlier and more sustainable on the trail. Below are my top 5 tips that I think we can all put into practise when visiting our favourite National Parks:
1) Zero Waste Meals
When you're packing or purchasing your lunch for a day or night out in the hills, think about how much plastic and packaging you are wasting and what you could do to limit that. For wild camping, I try to package my food in little reusable zip-lock bags or using beeswax wrap which you can pick up in many stores these days. Then I use a Hydro Flask for some hot tea on the trail in winter, and a hydration pack for the bulk of my water when wild camping. I also like to bake my own trail snacks whenever I can, so I'm not throwing away lots of plastic cereal bar packets!
2) Buy Sustainably
I'm a big believer in wearing your clothes to their death, however I also know that it's sometimes safer and more comfortable to have new, technical gear when outside in the hills. Therefore, I try to balance my want of the latest technical gear by buying from sustainable brands who are giving back to the planet. My go-to brand would be Patagonia, for the multitude of sustainable, recycled and ethical products it creates, as well as for being a 1% For The Planet company. However, it's amazing to see how many other outdoor brands are now doing their bit too! Something else I would recommend is trying to sell (or buy!) your old gear on Outdoor Gear Exchange (Facebook Community Group) so someone else can get the love out of a product that still has life in it.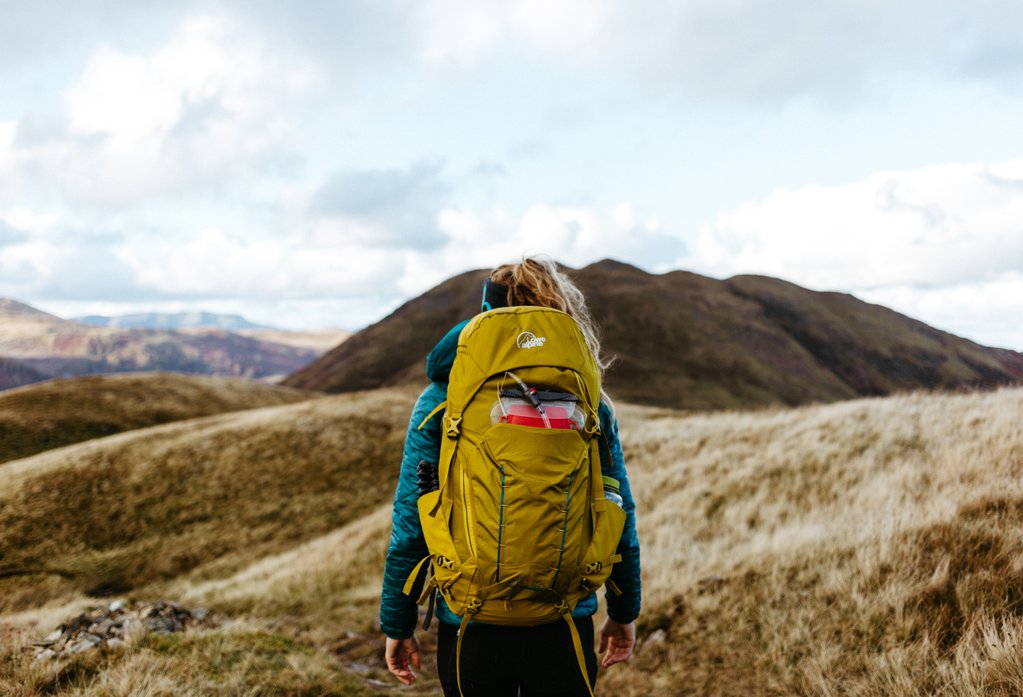 3) Use Kind Products
It's important that we think about our waterways and habitats when using certain products in the Great Outdoors. For washing up when camping, try to take a biological washing up liquid with you like eCover or Dr Bronner's; when reproofing your waterproof clothes and tent, use a product that is kinder to the earth like Granger's; and in the summer months when the midges come out to play, spray an natural insect repellent. You could also try to make your own natural cleaning products that are both kind to the earth and zero waste.
4) Ditch the Car
Traffic in the Lake District can be notoriously bad; I'm sure we've also been stuck on the road somewhere between Ambleside and Windermere at some point! Yet bus and train links in our National Parks are getting better and better, so why not take advantage of them? Something I think we could all try is not touching our cars once we're at our destination. So endeavouring to take all trails by foot, or catch a local bus if we want to do a walk from another part of the National Park. The amount of pollution that comes from our vehicles to the environment we are driving through has such a huge and direct impact yet can be easily avoided by lacing on our hiking boots and simply walking instead.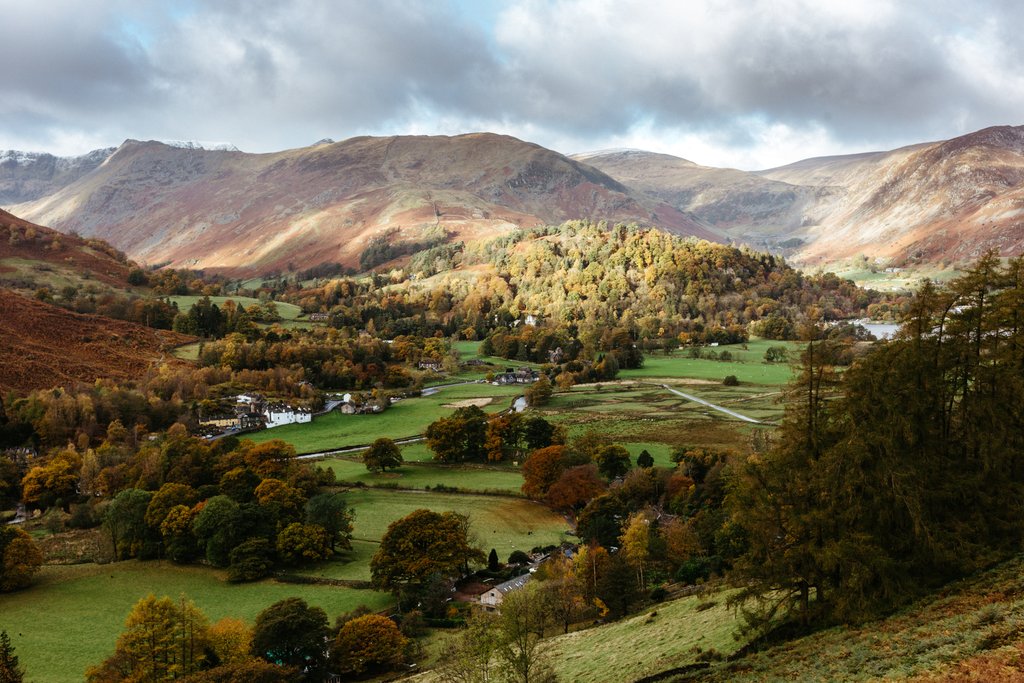 Autumnal colours and snow capped mountains in the Lake District 
5) Leave No Trace!
This may seem like an obvious one, but also something that we should all be reminded of now and again. When we spend time outdoors, we should really try to leave no sign of our impact on the environment. This means sticking to designated walking trails, leaving our campsite just as we found it, taking all rubbish away with us, and respecting the natural environment from the minute we leave our door to the minute we return home. Those of us who love the outdoors have probably already implemented many of these tips into their routine. Though they may seem small, I really believe that every simple act counts and caring in this way usually leads to us wanting to do more and trying to find further ways to support our planet. Why not connect with your community to work on ways you can look after your local environment? PlasticLess Keswick on Facebook is a great community group, while lakedistrict.gov.uk has lots of insightful information on initiatives to make the Lake District more sustainable for visitors.
Words and photos: Athena Mellor