Patagonia Micro Puff hoodie. Review by Esther Foster
Wednesday, 17 February, 2021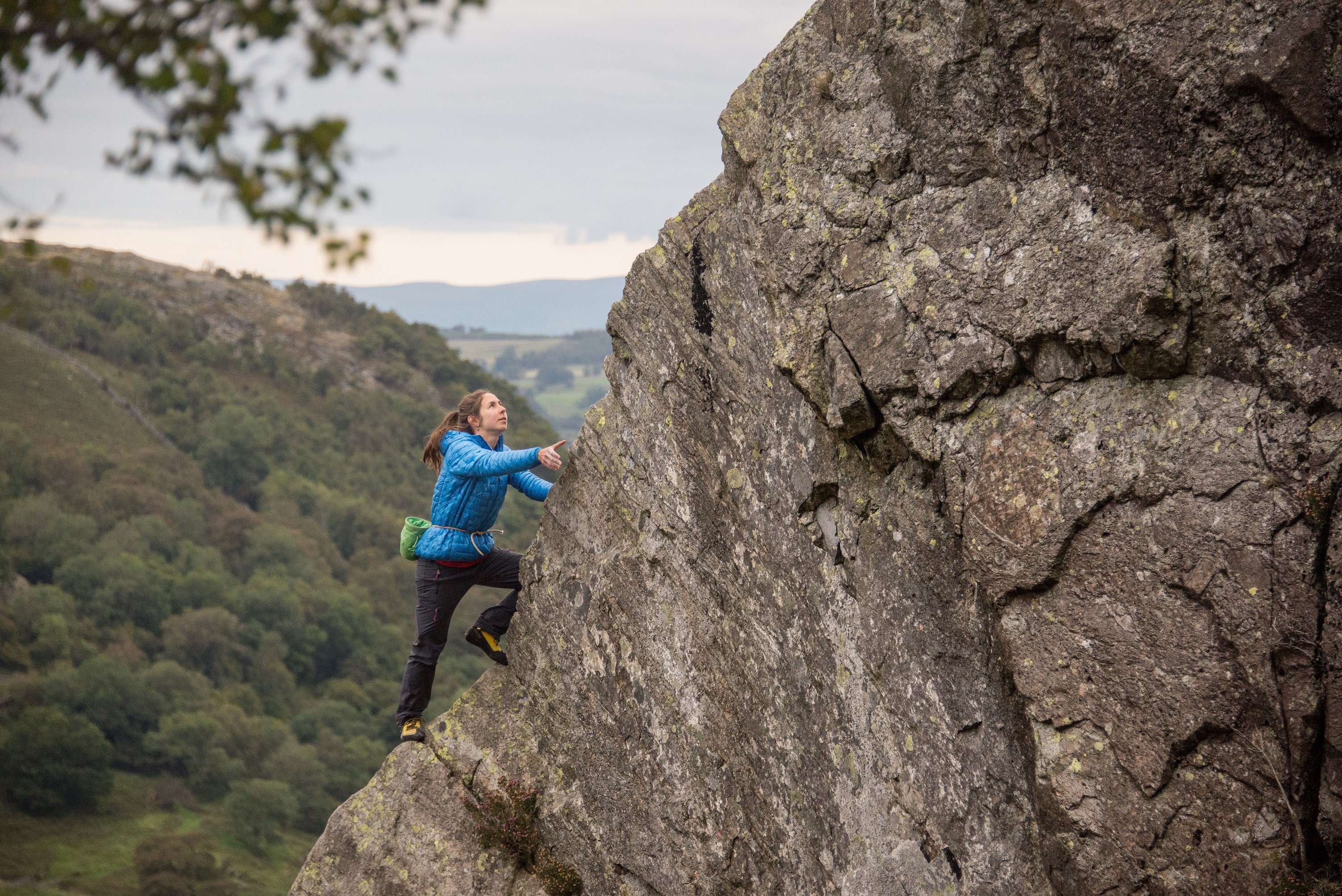 I've been wearing the Patagonia Micro Puff Hoody throughout this summer. It's been used for work and play; in the Scottish mountains, the Lake District crags and fells, the high mountains of the Alps, and more recently during a sport climbing week in beautiful Kalymnos.
Fit
I'm a slim size 8 usually, and this size Small hoody is comfortable, allowing space underneath for extra layers. Often when buying outdoor jackets and coats I'll size up to allow room for other layers and allow for maximum movement. There's nothing worse than climbing and mountaineering in clothes that are tight around the shoulders or underneath the arms. This hoody feels equivalent to a size 10; Patagonia is a US brand, and in my experience their clothing has felt slightly larger compared to the equivalent UK sizes.
The women's fit is slightly tapered around the waist, but not overly so. It has a long body and long arms, great for climbing and enabling unrestricted movement without letting cold air in. Patagonia jackets have an attractive range of colour choices, and always manage to look great out and about in town as well as in the hills. The Micro Puff boasts the best 'warmth for weight' of any of Patagonia's products; it looks, feels and compresses like a down jacket, but being synthetic filled has a much greater warm-when-wet performance.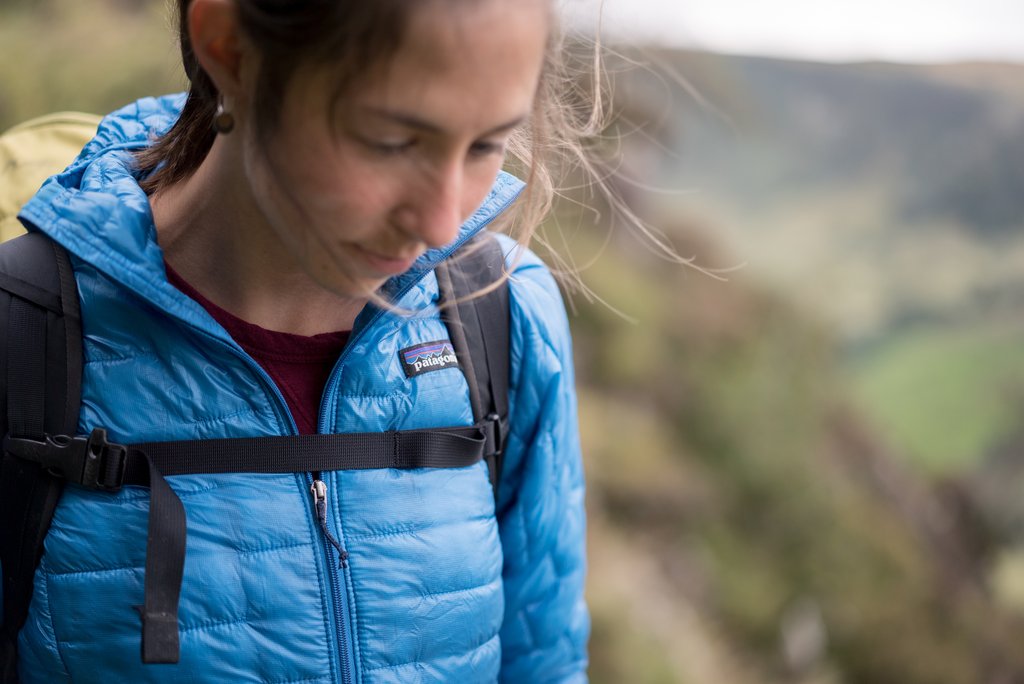 Practicality 
This jacket has been my 'go to' insulated layer for a large proportion of the year. It has the warmth of, and looks like, a mid-weight jacket when worn, but weighs and packs down like a much smaller layer. When climbing and mountaineering in the UK it has been the first thing in my rucksack, taking up very little space and weight, and being used when static at lunchtimes, evenings or on cold belays. When the weather is really cold, it still allows enough movement to climb and hike in. I've worn it often during my outdoor work, if I'm not moving around much, and it fits well underneath a waterproof. In the Alps this summer conditions were unseasonably hot, and it was only used in the evenings when staying up high in the mountains. The long and committing Cassin route on the Piz Badile involved climbing 24 pitches carrying all of our kit, and the Micro Puff was my light, super warm layer if the temperatures dropped or we were out longer than expected. On a contrasting trip, this jacket was regularly used in the evenings and when belaying or teaching in the shade while coaching climbing in Kalymnos, Greece. The attractive colours and smart design of the Micro Puff also often made it my jacket of choice for walking around town.
For really hot, stable weather when I know I'll be moving and staying warm I have often left this jacket at home. And for cold belays in Scottish winter, or when out in the cold if weight and walk-ins aren't an issue, then I'll be taking a heavier, warmer insulating jacket. For those of us that work and play outdoors, we do end up with a lot of jackets! The bottom line is that out of all of the synthetic and down jackets I own, the Micro Puff is the one I use most often.
The one negative for me is the lack of a zipped inside pocket. Personally, I find this to be a really useful feature on any jacket, and I struggle to see how the two inner 'slip' pockets are more beneficial. They could be used for gloves or a map, but most of the time I just forget they are there. The Micro Puff packs down inside its pocket, it's not necessary to always store it this way in a rucksack but great to have the option. The hood is snug and the jacket zips up just above the chin, important for cold, windy weather. The Micro Puff is water resistant, though this does not mean I would wear it outside for several hours in proper UK rain by choice. Light showers will not soak in instantly, the synthetic inner will not lose much warmth if it does get very wet, and it will dry quicker and better than down equivalents.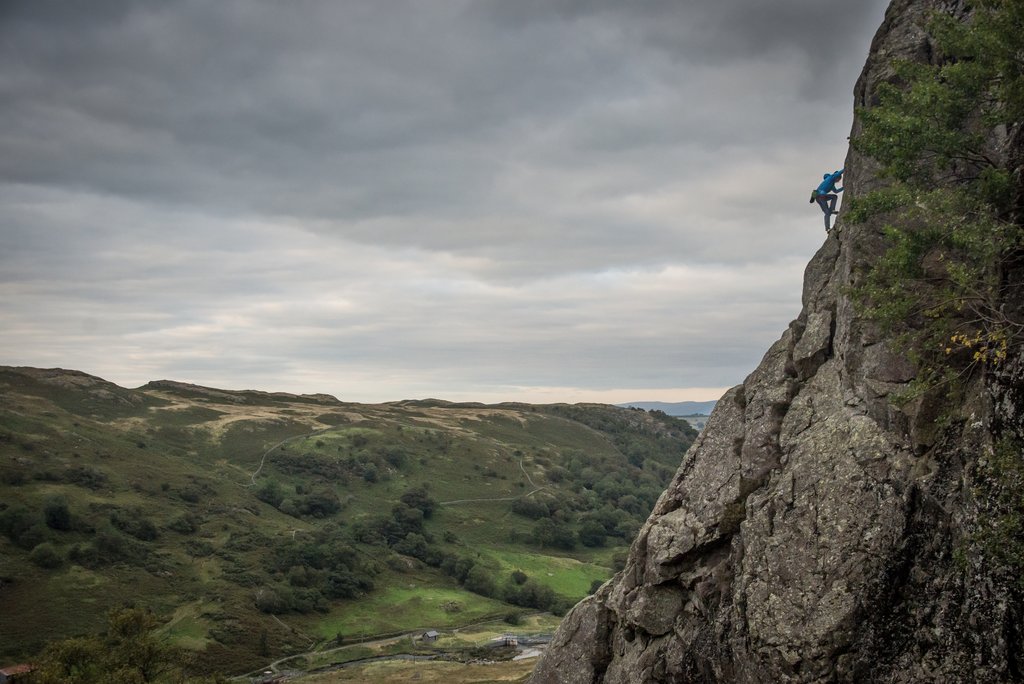 Final thoughts 
It's worth noting that Patagonia has an excellent ethical and environmental reputation. They recycle used Patagonia products and repair to a high quality; the 'Worn Wear' van is often found outside the George Fisher shop (although personally I think a few duct tape patches on a jacket tells of many more adventures than something pristine!). Although priced higher than some other outdoor brands, Patagonia items are built to last and their incredibly high standards of consumer care and ethical business practises should leave you confident in your purchase.
Esther is a George Fisher ambassador and runs climbing courses throughout the year. you can find out more here. 
All photos by Tom McNally